Klarra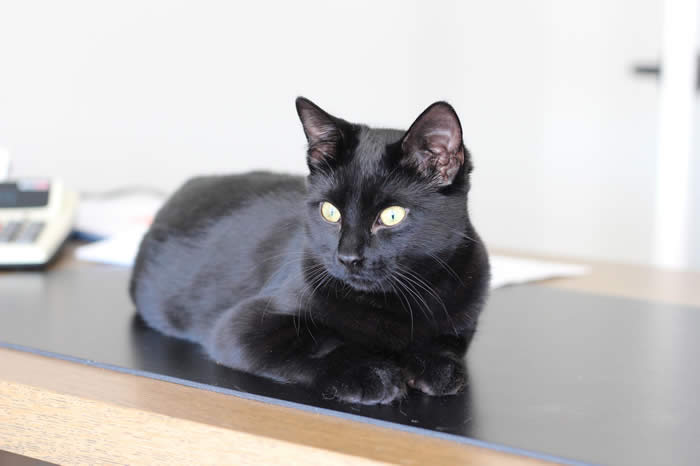 Klarra
Colour: DSH Black
Born Approx: May 1, 2023
Gender: Spayed Female, microchipped
History:
A couple living in a town near Lethbridge grew concerned when they observed a young homeless mother-cat and her three kittens. The family was new to the neighbourhood and had taken refuge under a neighbour's front step. The little mom, now named Emori, had lost part of her rear right leg due to some type of catastrophic injury, making providing for her youngsters difficult, and avoiding predators and aggressive street cats problematic. The couple and the neighbour started feeding the little family, and contacted rescue-groups. Regardless of capacity issues, PAW decided to make a special effort to trap the injured female and her offspring. With the indispensable help of the local couple, the Society was able to capture the kittens and, eventually, their mother. Emori and her kittens became very familiar with feeding time and their social progress can be attributed to the team effort of the two neighbours, talking to their little visitors over several weeks and slowly gaining their trust. The orange boy – now named Julien – entered the trap first, true to the couple's description of him as 'super curious'. Klarra and Evelyn, followed a day later. All are in a foster-home now.
Personality:
Both Klarra and her sister, Evelyn, are little sweethearts! That Klarra quite quickly decided to trust her foster people is truly amazing and they are very much enjoying her progress. The two little girls are handled as much as possible. Klarra has become very affectionate and cuddley and patiently waits her turn for some one-on-one on foster mom's lap. She's petite and perfect! They buzz around the house all day long, seeming to be everywhere at once. They love play-time with a string toy and constantly bat around little sponge balls or fuzzy mice. Klarra and Evelyn have a good time with their brother, Julien, and each like a turn napping with him. At feeding time, it's very easy to lure them back into "their" bedroom just by calling out "come on little babies" and showing them their dishes of food (they have to be fed by themselves otherwise they steal the big cats' food). Klarra is going to be a wonderful little house-panther family member.
All kittens, but especially shyer ones, need your time: playing, holding, brushing, nail trimming, picking up, handling, supervising and making your home kitten-safe. If they stop receiving attention, they'll stop wanting it.
If you would like to inquire about Klarra, please submit by clicking here.
left to right, Klarra, Evelyn, Julien (siblings)