Emori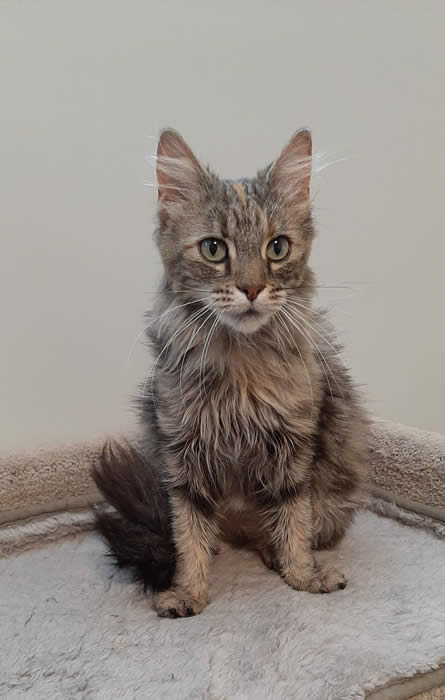 The day she was rescued on Sept 4/23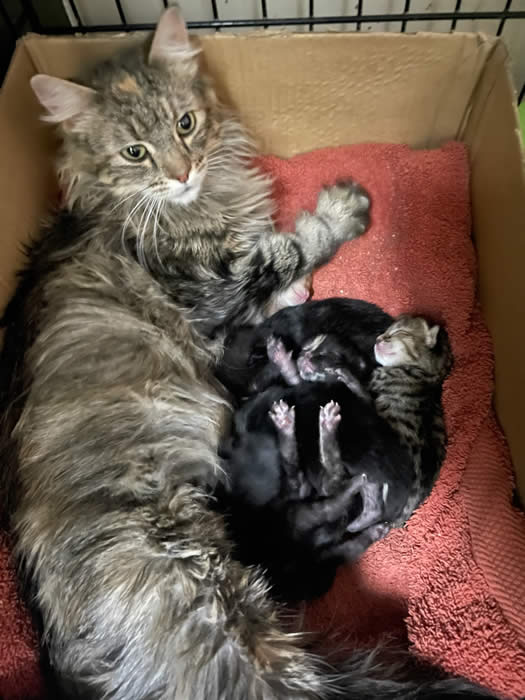 Emori and her family of six, Oct 10, 2023
Emori
Colour: DMH Torbie (Tortoiseshell/Tabby)
Born Approx: July 15, 2022
Gender: Pregnant Female
UPDATE: Emori gave birth to seven kittens on October 4, 2023. Six survived: four females, one male. Emori is tiny, just 3.11 kg post pregnancy. Foollowing her resuce and the four weeks pior to giving birth, she free fed high quality canned and dry food but she had little recovery time between pregnancies and was very depleted from the first litter. We will keep an eye on her milk production.
History:
In late August, 2023, PAW received a call from a concerned resident who lived in a town outside of Lethbridge. An injured mother cat and her three kittens had been living under her neighbour's front step for about a month. She called every organization she could think of. No one could help - even PAW couldn't immediately commit to it. Every rescue group's resources are maxed out. It's been a particularly rough year for all of us. But...we could not get the situation off our minds - was there any possible way we could help this little family? Two foster homes, already with muliple foster cats, said 'yes we can'.
Once PAW agreed to help, the resident began the trapping regime and after a few days had captured all of the kittens. They were about four months old and have been named Julien, Evelyn and Klarra. It took another week for their little momma to get in the trap but eventually that was successful as well. We named her Emori. Her friendly demeanour tells us she was someone's pet at some point. And we were not shocked to discover she is already pregnant again, confirmed by ultrasound. Her rear right leg is missing below the knee and, although mostly healed on the outside, remains a painful impediment. The best way to improve her quality of life and mobility will be to have the entire leg amputated. We would estimate surgery for that will be towards the end of 2023.
What a brave little soul! We don't know how she received such a traumatic injury but it would have made it almost impossible to fend for herself, never mind three kittens. Yet, somehow, she managed to move them to the safest place she could find. She is young, barely past the kitten stage herself. When the resident first noticed the little family, she could see they were not thriving. Canned and dry food, and lots of it, were immediately provided. The kittens were most active in the mornings and evenings so the two neighbours fed them in shifts. Emori and her kittens became very familiar with feeding time and their social progress can be attributed to the team effort of the two neighbours, talking to their little visitors and slowly building trust.
Emori is doing a wonderful job of nursing and caring for her most recent (and final) litter. Although she and her kittens are still in a kennel, Emori gets lots of breaks outside of it. She is in a multi-cat foster home and is not bothered at all by the few felines she has met so far. She's a great little (and we mean little!) lady!
If you would like to inquire about Emori, please click here.
Safe at last! Day of rescue: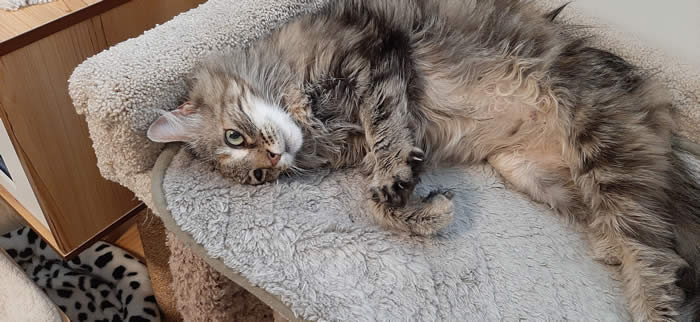 Emori's leg is missing just below the knee: