A Tribute to Romie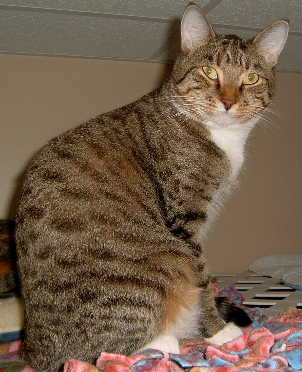 In the fall of 2004, Romie came into the PAW Society along with his seven family members. The family had never had a home with people and as a result were very shy. They were living in a junky old garage in a yard next to an open field in a Lethbridge neighbourhood. Their diet had been supplemented occasionally with scraps offered by a renter who lived in a camper in the backyard. At least one litter of kittens had been previously removed by the renter.
Someone who regularly walked her dog down the back alley noticed the cats and started leaving food for them. Winter was approaching and she could see that something should be done. When she asked PAW for help, we agreed to take care of the group's spaying and neutering and possibly find homes for the younger ones. The plan proceeded and all were successfully trapped and sterilized. The adults would be returned to the property where one or two individuals would continue to provide food.
While the cats were still at the vet clinic recovering from surgery, we learned some disturbing news: all buildings on the property were to be torn down the following year. Returning a colony of feral cats to a yard that would soon
have all its buildings demolished was not an option. The destruction of the old garage would have forced the cats to disperse. We made the only choice we could: four feral cats and four feral kittens were all brought to the Cat Compassion Centre.
The family consisted of Romie, his brother, Neptune, his sister, Keelin, their mother, Thumbelina and four kittens, Coltin, Cheyenne, Filly and Chestnut. The kittens belonged to either Thumbelina or Keelin and were about four months old. After a relatively short socialization period, the kittens were all adopted. Our focus turned from the angst of having four adult feral cats living long term at the Compassion Centre (not ideal for them) to finding ways to help these shy, displaced cats feel comfortable in a home that wasn't really a home.

Soon enough, Thumbelina and her adult offspring blended in to life at the Compassion Centre. What we found most endearing about the family was the comfort they continued to give and receive from each other and how well they got along with other cats. They even welcomed into their fold a little semi-social adult cat we already had at the centre called Cameo. She adored Romie (we called Romie her boyfriend). He never refused Cameo's affectionate requests which would start by her rubbing up against him and end with him good naturedly grooming her.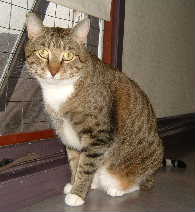 Romie also had a special talent for enticing younger cats to play with him. He approached newcomers in a slightly submissive yet interested way. After much patience on his part, the payoff would be a new playmate. Each one of Thumbelina's family had an extraordinarily gentle soul and, just as we hoped they would, they began to trust their caregivers.
Neptune was the first one of the family to let us touch him. After making fairly rapid progress over a couple of years at the Centre, he was chosen for adoption by a loving family. We were so pleased one of Thumbelina's family had found a forever home which, after all, was our heartfelt desire for each of them. The Centre was never meant to be a permanent home for anyone.
Although we could tell he missed his brother, Romie continued his pattern of making new friends. He, Keelin and Thumbelina, also progressed in their relationships with people. Romie became a happy, active boy and it was a thrill to be on the receiving end of one of his tentative, gentle, playful touches.
We may have provided an atmosphere that fostered this little family's trust of humans but what they taught us about feral family life was truly insightful. Some of us already had once-feral cats as family members so we knew they bond deeply and make wonderful companions. Thumbelina's family gave us the opportunity to closely observe the relationships that a feral group has with each other. It was fascinating to watch them communicate and interact. They had a deep trust of one another and no conflict. They were even able to maintain their peaceful, loving connection despite having to live within a larger, ever changing (and not always peaceful) group of cats.
When the Compassion Centre was forced to close in the summer of 2008, the pressure was on to find foster homes for all the adoption cats living there. We were overjoyed when Neptune's adoptive family agreed to foster both Romie and Keelin. We were told it was a very touching reunion. Even though Neptune had been apart from his siblings for two years, their bond had not broken and the three of them resumed their relationship immediately.
Two months later, in October, 2008, Romie accidentally got out of his foster home. We searched, advertised, delivered posters, mailed posters, walked his neighbourhood, walked other neighbourhoods. We waited expectantly for weeks, desperately hoping to get the right call. Several individuals contacted us about possible sightings. We would rush to the area, trap the cat they thought was Romie, but it was never Romie. In years past, we had experienced a couple of foster cat escapes but luck had been on our side those times. Not so with Romie.
Words cannot express how sad and sorry we are about Romie. Despite the pain of not knowing what happened to him, we try to focus on the blessings this sweet boy brought us during the four years we had him in our care. His little heart was exquisite. His gifts to us and other cats were many.
Epilogue:
Keelin continues to live happily with her brother, Neptune.
The four youngsters (now all adults, of course) are in loving, permanent homes. Two of them, Filly and Coltin were adopted by their foster family.
Cheyenne, who was adopted by a family but then returned, got very lucky and went to live with Filly and Coltin.
Chestnut, now lovingly called Buppers, was adopted by
another family member.
Cameo went to live with another PAW cat, Reggie, but in the fall of 2010, we were very sad to hear of her passing.
Thumbelina is very relaxed in her foster home.
She missed her family for a long time.