Tabitha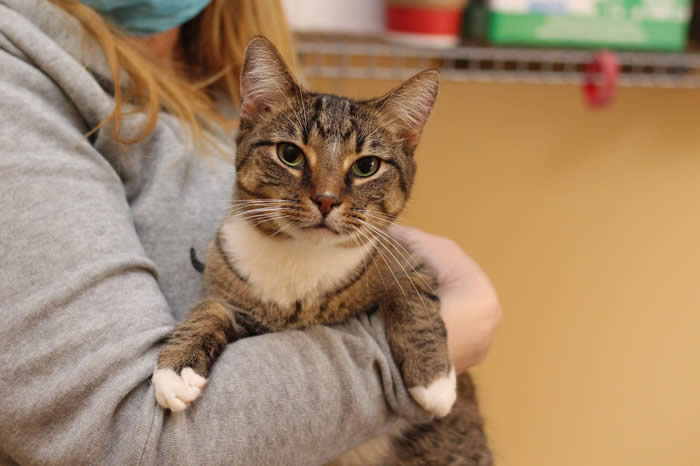 ADOPTED!
Tabitha
Color: DSH Brown Tabby, dark striping, white chest and feet
Age: Born Approx. Oct. 6, 2015
Gender: Spayed Female/micro-chipped
History:
Tabitha and her brother, Douglas, were rescued as tiny kittens in 2015, found beside their deceased mother. They were surrendered recently due their family feeling that their quality of life had diminished over the years, to the point where they had become quiet and withdrawn. You see, their rescuers live in an area where there are many cats in need. Acting on one's desire to help homeless cats often ends up in acquiring many. Living with multiples is difficult for some cats. These two were well taken care in the physical sense and the decision wasn't made lightly to find them a better suited home. Tabitha and Douglas can be adopted separately.
Personality:
Tabitha is petite, energetic and in very good physical shape. If she is a bit shy initially, she will quickly grow used to her new home, especially if it piques her interest - she loves an environment that offers places to explore (boxes, etc.) and vertical space (cat furniture or other ways to achieve height). She's an inquisitive little girl and enjoys stimulation (like all cats). She has a strong desire for a relationship with her own person and enjoys some down-time on a lap. She doesn't mind being picked up and likes to be carried around - she likes the perspective from up there! She would enjoy another cat who is not dominant or rough - but who might like a playmate. She has a playful and flirty relationship with Flint who also shares her foster home. They would make a great pair...