Flint and Finnegan (Brothers)
Finnegan (left) and Flint: 3 - 2 - 1 ACTION!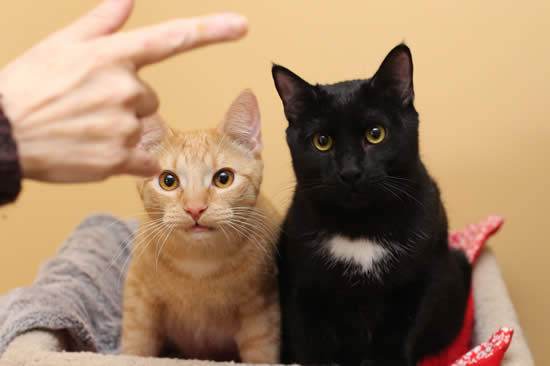 Flint
Colour: DSH Black with white patch on chest
Age: Born approximately May 10, 2019
Gender: Neutered Male, micro-chipped
Finnegan
Colour: DSH Orange
Age: Born approximately May 10, 2019
Gender: Neutered Male, micro-chipped
CAN BE ADOPTED SEPARATELY - both enjoy other cats
History:
Poor wee tikes, dumped in the country side sometime around August 10, 2019. Who knows what these little fellows went through as they made their way to safety - or how long it took them. Luckily, they managed to find a cat-friendly acreage. The owners contacted their surrounding neighbours to see if anyone had lost a couple of kittens. No one had. The two little fellows dove into the food and over the next ten days regained their strength. Their rescuers then contacted PAW as the acreage is in the process of being sold and so the kittens were at risk of being homeless again. After a bit of an effort (Finnegan had to be trapped), the little fellows were safely placed in a PAW foster home.
Personalities:
Like most siblings, these two have quite different personalities. Finnegan lets Flint be the front-man. Named after the Great Warrior Finn, of red hair and Irish descent, Finnegan was possibly a bit more traumatized by the experience of being out in the wilderness. Think of what a ditch would feel like to a young kitten! He is currently the more cautious of the two, although he probably has just as many ideas as his brother and just doesn't act on them, yet. His foster mom is letting him proceed at his own pace and has observed steady progress each day. He loves to play and wrestle with his brother, especially on foster mom's bed, then snuggle up with foster mom...and, of course, wake her up in the morning! He makes up for that by cuddling on your chest if you happen to be having a bed-day: it's sure to make you feel better. He also likes to hang out with her on a chair when she's at her computer. But soon he's on her lap. "Just let Finnegan be Finnegan and he'll be a wonderful little family member!"
Flint, named that because he's a little spark, is quite outgoing. Foster mom says he is a "little house panther, full of energy and imagination, always looking for adventure". He has white patches other than the obvious one on his chest, but you have to look for them, she says. And he expects her to find them by petting and playing with him. He is a new technology kitty - no switch - he is touch-controlled. One touch and on goes the purr motor. He loves your attention but when he's tuckered out, a little cuddle spot next to you sends him off to his happy place in dreamland.
If you would like to inquire about Flint or Finnegan, click here.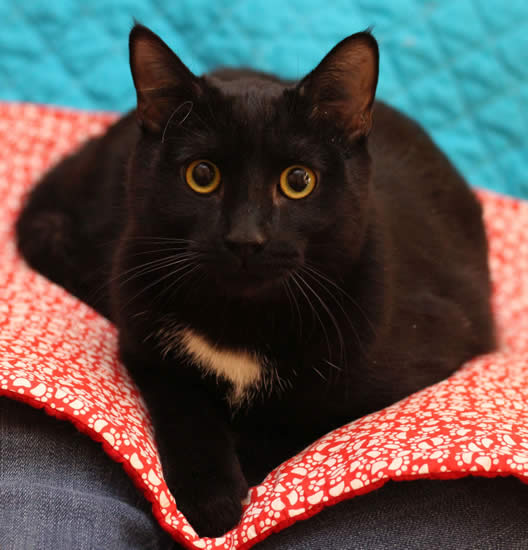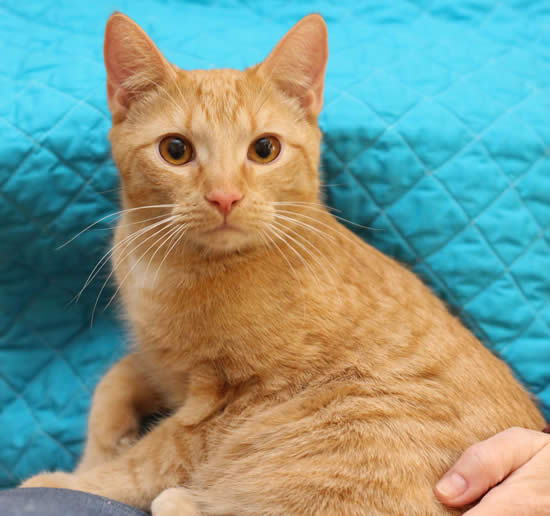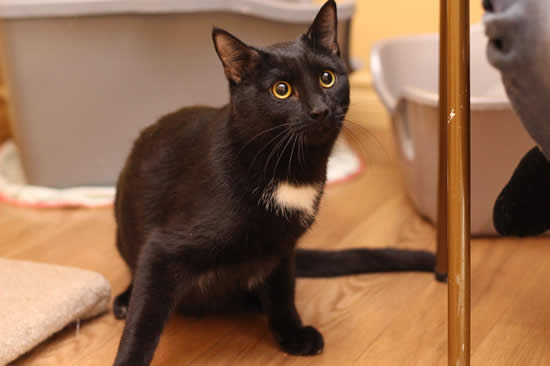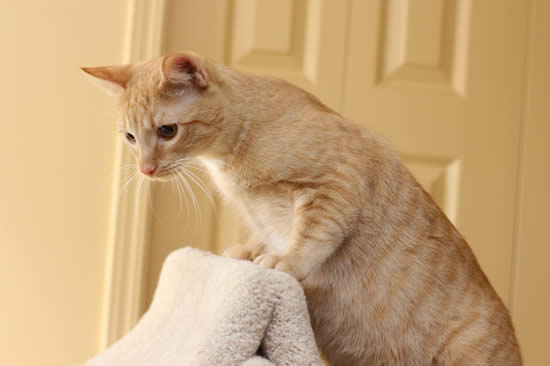 The day they were rescued, August 18, 2019: