Douglas Furbanks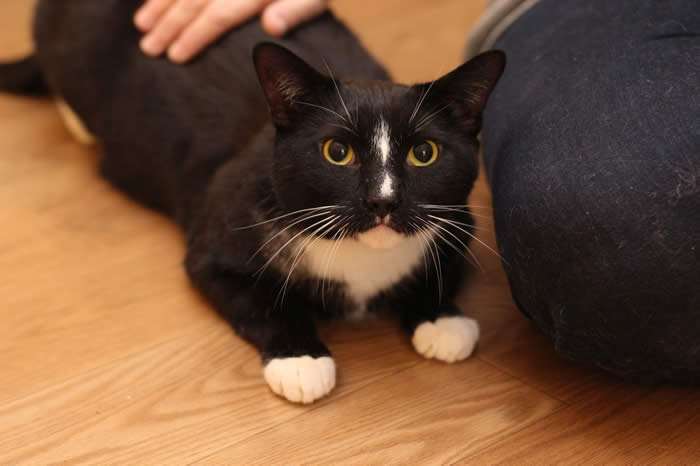 ADOPTED!
Douglas Furbanks (aka Doug)
Color: DSH Black w/white front and back paws, white chest, striped nose
Age: Born Approx. Oct. 6, 2015
Gender: Neutered Male/micro-chipped
History:
Douglas and his sister, Tabitha were rescued as tiny kittens in 2015, found beside their deceased mother. They have recently been surrendered due their family feeling that their quality of life had diminished over the years, to the point where they had become quiet and withdrawn. You see, their rescuers live in an area where there are many cats in need. Acting on one's desire to help homeless cats often ends up in acquiring many. Living with multiples is difficult for some cats. These two were well taken care in the physical sense and the decision wasn't made lightly to find them a better suited home.****Tabitha has been adopted****
Personality:
Douglas aspires to be a swashbuckling leading man - no different from his actor namesakes, the Senior and Junior Fairbanks gentlemen. He certainly has the physique and required good looks. It's only his confidence that needs some nurturing. His rescuer's home, unfortunately, had a resident cat who picked on Doug mercilessly. It was always assumed the (bully) boy would eventually relax and let Doug live in peace, but that did not happen. Doug coped the best he could. He learned to be hyper-vigilent which prevented him from enjoying the freedoms that most cats enjoy. Ideally, we would like Doug to be an only cat in his new home where he would be able to completely let his guard down. Doug very much enjoys people and those bonds will continue to strengthen in a stress-free environment. His needs are few - a trusted human who will show him the pleasures that come with being a beloved and cherished little friend.