Rebus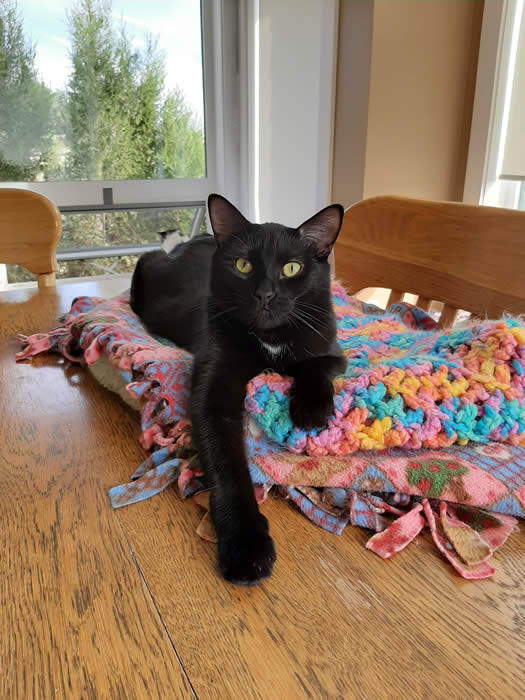 Rebus (shy)
Color: DSH Black with a bit of white on chest
Age: Born Approx. May 15, 2019
Gender: Male Neutered (tatooed)
History:
Rebus was one of five siblings (see Jaycee) seen living behind a business on the north-side of Lethbridge, where there was already a managed feral colony with regular care-givers. The youngsters appeared suddenly, in October of 2019. Plans were made to trap them and all were eventually captured. Though previous cats at the site were returned after they were spayed or neutered, it was thought that this group was young enough to socialise.
Personality:
Rebus has a loving and safe foster-home and he is making progress there. He has become used to living indoors. He now knows that he is safe and that his foster family is an excellent food-source, but now he needs to take the next step. He rubs up against his person's legs – at mealtimes – and is getting close to accepting full-on body petting. He would do exceptionally well with another exuberant cat! Someone who would keep up to Rebus and be okay with him running the show! He's playful and active, sometimes at night and always in the mornings, and at the peak of health. Like Jaycee, it could take a few years yet for Regus to become fully socialized to humans. But for anyone who has tamed up a cat, you would know how rewarding the journey can be.
If you'd like to inquire about Rebus, click here.