Jaycee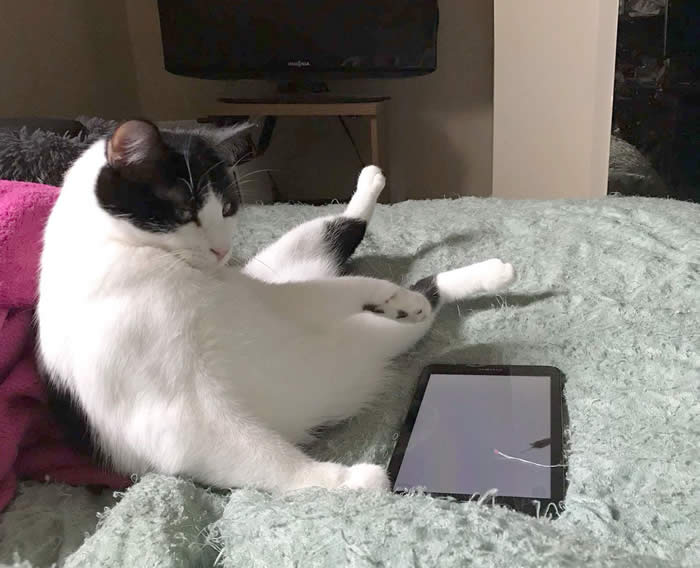 Jaycee (shy)
Color: DSH White & Black
Age: Born Approx. May 15, 2019
Gender: Male Neutered (tatooed)
History:
Jaycee was a youngster living in a managed feral colony behind a northside business. He and his four siblings appeared suddenly, in the autumn of 2019, and were about five months of age. This isn't so unusual. Their moms sometimes keep kittens hidden and protected for a few months. Once they were seen, however, all were trapped and neutered and spayed; they were thought to be young enough to socialize.
Personality:
The main characteristic Jaycee retains from his days of living 'wild' is that he can frighten easily - but he knows he is safe now, and he recovers quickly. His foster-mom says that Jaycee has a 'heart of gold; never a harsh hiss for anyone'. Jaycee certainly loved being part of a large cat family because he's still loving it. He would do well as a companion to another cat - or maybe several other cats. A more recent addition to his foster-home was welcomed by Jaycee as if they were long-lost pals. Grooming, playing and snoozing are group activities for this fellow.
The odd time when he does want to be alone, Jaycee finds restfulness in a tented towel or a rumpled blanket. He can make a little cave out of anything! He especially likes to burrow into a basket of freshly folded laundry... But he won't be out of action for long. There is too much for this very curious fellow to see and do and experience - fighting toys that flop and twitch, watching birds out the window, and one of his favourite pastimes, pursuing electronic fish or mice on a computer tablet. Jaycee makes as much entertainment for his humans as he does for himself.
UPDATE: January 2021. Jaycee has come such a long way. In a new home, he would likely regress for a time (normal for cats who were not socialized to humans prior to being rescued). We feel he would eventually do well, but expectations for a quick emersion into a new home shouldn't be too high. We would love for him to be adopted but it will take patience and a commitment to his safety. If he ever escaped, it's unlikely he'd be recovered. It make take a few years yet for him to be completely socialized. Play-play-play is the way to a cat's heart. If you've ever lived with a once-feral cat, you would know it's worth every bit of effort.
If you'd like to inquire about Jaycee, click here.
Another foster cat using Jaycee as a pillow and he doesn't mind::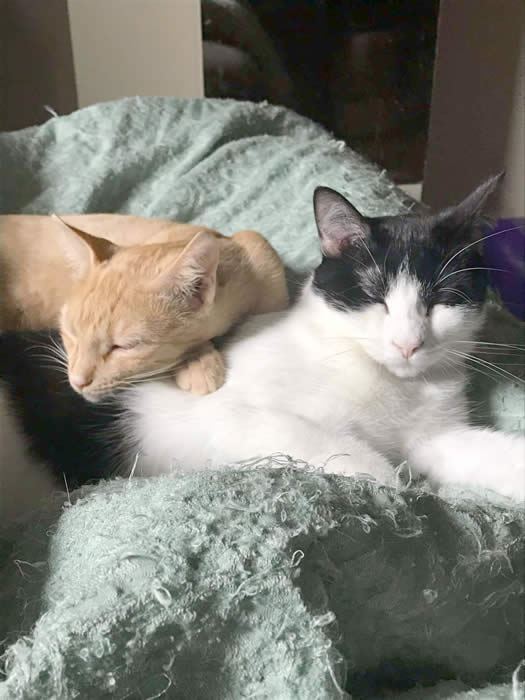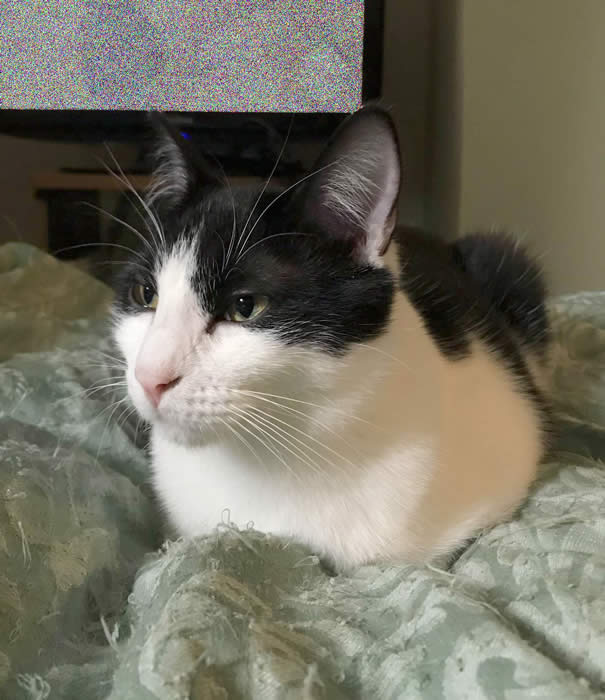 Jaycee on the left (home-schooling) - mouse simulator: