Molly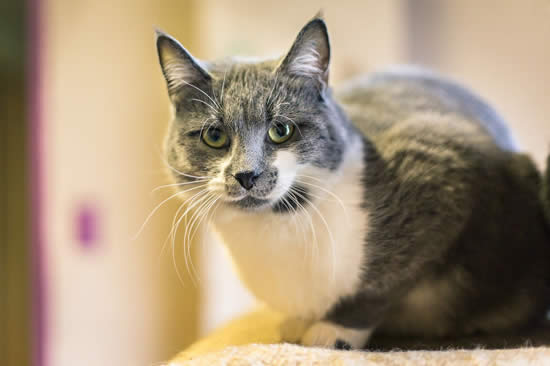 Molly's photos courtesy of Tanya Plonka Photography
ADOPTED!
Molly
Color: DSH Gray and White
Age: Born approx. Sept. 2010
Gender: Spayed Female
History:
Molly is one of the cats staying temporarily in a commercial building, waiting for either a foster home or to be chosen for adoption. She came to the attention of a rescue person in the summer of 2012 when someone placed an urgent call for help. Homeowners had discovered a cat living under their backyard shed. The little female was extremely emaciated, likely in that condition from trying to nurse kittens but without enough sustenance to do so. The people immediately offered food to her. She was wary but soon warmed to their kindness. However, they were about to leave on a holiday and knew she would need care while they were away. As there were no foster homes available, Molly went to live with the dozen or so cats staying temporarily in the afore-mentioned building (see also DeeDee). Of course, before going there, she was spayed and vaccinated, having had her veterinary care sponsored by the caring people who found her in their yard.
Personality:
However you slice it, living indoors is much better than living under a shed! But Molly is ready for so much more - a home and love. Clearly, she had a home at some point but wasn't lucky enough to have a person that looked after her properly. It's always a wonder - how does a cat who's gone through what she has, still be so gentle and willing to love again? She quietly observes all that goes on around her but readily accepts an invitation to play. She soaks up all the attention offered her. Once she is secure in the love of a devoted family, in a real home, she will continue to blossom. She does well with other cats. We hope that soon she will be curled up contentedly on someone's sofa.
Click here if you would like to adopt Molly.
Click here if you would like to fill out a foster inquiry form.