DeeDee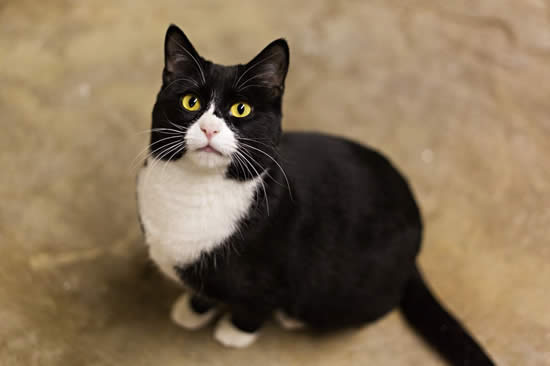 Photo courtesy of Tanya Plonka Photography
ADOPTED!
DeeDee
Color: DSH Black and White Tuxedo
Age: Adult (young)
Gender: Spayed Female
History:
DeeDee and her four kittens were surrendered into the care of a person involved with cat rescue. Her previous "owners" were moving out of town and let's just say the destination would have been unfavourable for DeeDee and her little family. In other words, they would not have survived for long. Their care had been been sub-standard to begin with. DeeDee was an unspayed cat who inevitably got pregnant and had kittens. But her people didn't allow her to stay in the house with her kittens. She would be let in to nurse the babies, then put back outside. The whole scenario was unfathomable, not to mention cruel! But, rescued she finally was, and thank goodness for all the efforts put into that project - not a small one to take on by any means. DeeDee is receiving temporary shelter in the same place as Molly, a commercial building. Please consider offering this sweet tuxedo girl a real home.
Personality:
To no surprise, DeeDee is a bit reserved in new situations. That's not unusual for many cats. She will run to greet you, but then hold back a little bit, waiting for a sign that everything is safe. Once she's sure about that, this little darling can't get enough attention. She loves to curl up on your lap. She is young (born in late 2011) and with youth comes a natural curiosity about her world. She has learned that people can be trusted to care for her and about her. If you are familiar with tuxedo cats, you may know them to be self-assured, loyal, friendly cats. When DeeDee is invited to be part of someone's family, she will blossom like a little flower. She does very well with the other cats she's living with - currently that's in a temporary commercial building. From time to time, a couple of large cat-friendly dogs visit the cats there. DeeDee has been fine with them too.
Click here if you would like to adopt DeeDee.
Click here if you would like to foster DeeDee.