Kate & Meghan
(SISTERS)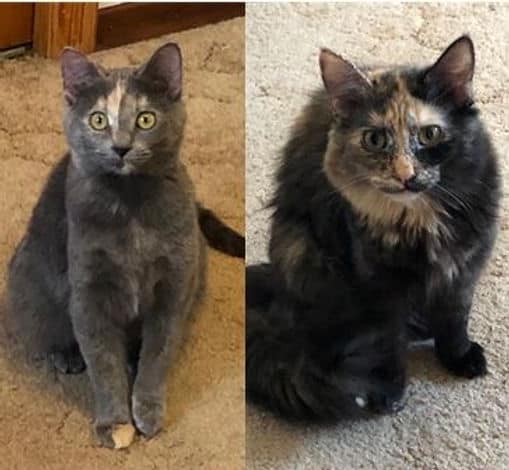 BONDED PAIR
Rescue groups don't use the designation 'bonded pair' without careful consideration. It can take longer to find a home for two; however, for Kate and Meghan, keeping them together is in their best interests. They are sisters and would be lost without each other. It's important to know that tortoiseshell cats are very interesting and intelligent little creatures and have a deep desire (need) for relationship with their person.
Kate (l)
Colour: DSH Dilute Tortoiseshell
Age: Born Approx. Oct. 1, 2020
Gender: Spayed Female (microchipped)
Meghan (r)
Colour: DMH Dark Tortoiseshell
Age: Born approx. Oct. 1, 2020
Gender: Spayed Female (microchipped)
History:
In the fall of 2020, at only three or four weeks of age, these two beautiful tortoiseshell kittens were rescued by Last Chance Cat Ranch from a feedlot. A third sibling, a little orange boy, did not survive. It is suspected their mother had also perished. The two babies were placed with a very capable foster provider where they received the needed care to get past their sad start in life. The PAW Society has been asked to help find them a forever family. These youngsters are healthy, happy, well socialized and playful. They like to sleep together on top of the cat tree where they also like to watch the birds in the backyard.
Personalities:
Kate is the more cautious of the two, preferring to observe new situations from a distance - on a chair under the dining table - where she also likes to nap. She usually scoots under the bed when someone new comes into the house. She is very sweet and docile but will make some noise if a certain cat gets a little too close for comfort - we love that about torties - boundaries! She loves her petting sessions and will nest like a baby in her human's arms, purring rapidly, soaking up the loves, sometimes licking your hand or nibbling on your little finger. Kate lives with two small resident dogs but doesn't find them all that interesting :) She has expanded her circle of friends to include one of the male cats in her foster home. Kate and Meghan like to play hair stylist with their person (they get to be the stylist).
Meghan is more outgoing and always easy to find because she perches on top of things, her floofy tail is difficult to hide. As you are walking, she'll flop down right in front of you, trying to convince you this is the perfect time for a love session. She gets right into belly rubs. She's a little obsessed with the tinier of the two dogs but doesn't like it when the other one barks at her (who could blame her!). She loves to lie on your lap for cuddles and pets. When her mischievous side comes out, she will try to steal some of the dogs' kibble and to stalk plastic bags. Like her sister, Meghan very much enjoys interactive play with her person. Both cats like to play in the water bowls so foster mom tries to reduce the spillage by only filling them half full (it sort of works..). Megan's not really interested in the other cats in her foster home. Her need for friendship is adequately met by her sister and her humans. She shows her devotion by giving kisses and love taps with her fluffy paws.
If you are interested in knowing more about these two little girls, please submit an inquiry here.
Kate: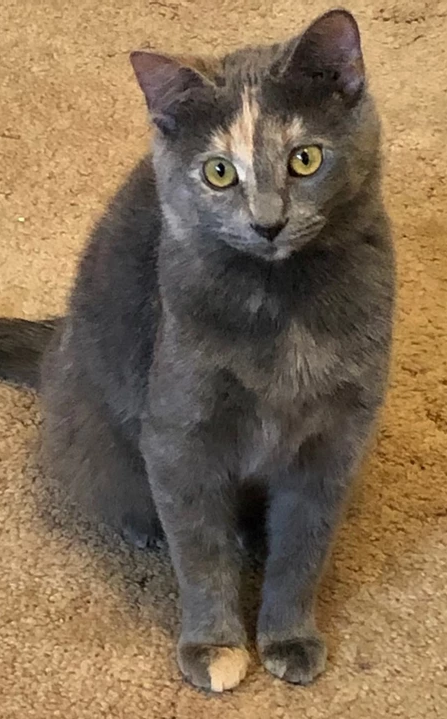 Meghan: