Isobel(left)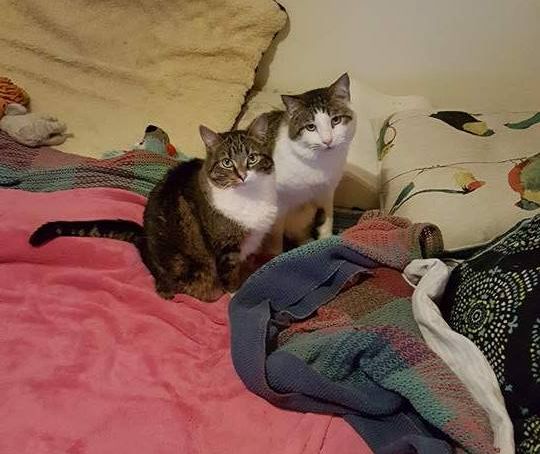 BONDED PAIR: MORLEY & ISOBEL
Isobel
Color: DSH Rusty Brown and White Tabby
Age: Born Approx. July 25, 2015
Gender: Spayed Female (micro-chipped)
History:
Isobel was a terrified little cat living on the streets in a small town outside of Lethbridge. Normally shy cats don't do this: charge into someone's house, but she did. She was desperate!
We don't use the designation 'bonded pair' without careful consideration. It can take longer to find a home for two; however, for Isobel especially, we feel strongly that keeping them together is in their best interests. Because Isobel is shy, we are waiving her adoption fee.
Personality:
Cats who are shy around humans aren't usually shy with other cats. Most often they have lived their entire lives with their own kind and are completely comfortable in that setting. When young Isobel was rescued, she was vetted and put in a foster home where she met Morley. It was love at first sight! He became her safety net, her everything; where he is, you will find her too. He good-naturedly accepted the responsibility of looking out her and has made her life complete. It's not that Morley could not live without her, it's that she cannot live without him.
You are welcome to fill out an Adoption inquiry here for Morely and Isobel.