Jerome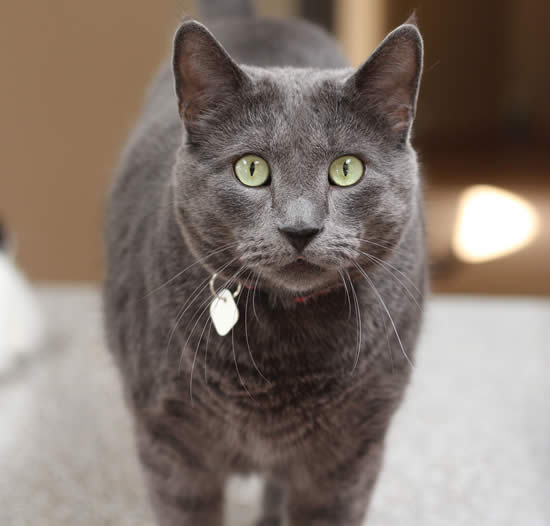 Jerome
Color: DSH Gray (large)
Age: Born Approx. July 10, 2014
Gender: Neutered Male (micro-chipped)
History:
This is Jerome's second chance at finding a permanent home. Originally, Jerome was rescued as a one year old stray by The Last Chance Cat Ranch in the summer of 2015. He was subsequently transferred to the PAW Society and went on to be adopted from PAW along with Henry later that year. Sadly, he was returned to PAW in June, 2018, along with Henry. Henry has since been re-adopted.
Personality:
Jerome has personality to spare. That's good, because you'll be sharing stories of it with everyone. You can start by telling how busy a fellow Jerome is. When he wants his food, he will walk back and forth in front of you, discussing the situation. If he thinks you may be late with his meals, he'll stand on his hind legs, his front paws on a counter or table. "Here, let me do it; you're too slow." Then there's his furniture moving: he has a propensity for transporting his cat-beds about his foster-home. Up the stairs, down the stairs, three flights or more: Jerome likes to report that the beds are on the move. Maybe he'll say something about it when you can't see him. That's all right; just tell him you hear him, and he's satisfied. He likes to race a bit, too; he'll go down the stairs faster than you can. Or at least that's what he wants to show you. But at the end of the day, he will lie on your lap – you'll know he's there, the hefty guy – or curl up on the bed near you.
Jerome might be at his best as an only-cat, but he's learned that other felines can be fun, too. Oh, he's just a bit mischievous with his furry roommate, but there's nothing harmful or hurtful about his teasing. There's nothing harmful or hurtful about Jerome, period. He's a big, cheerful fellow. Yes, he could stand to lose a few pounds, but we guarantee that he won't lose any of that personality with the weight.
If you'd like to inquire about Jerome, click here.