Ela's Five Kittens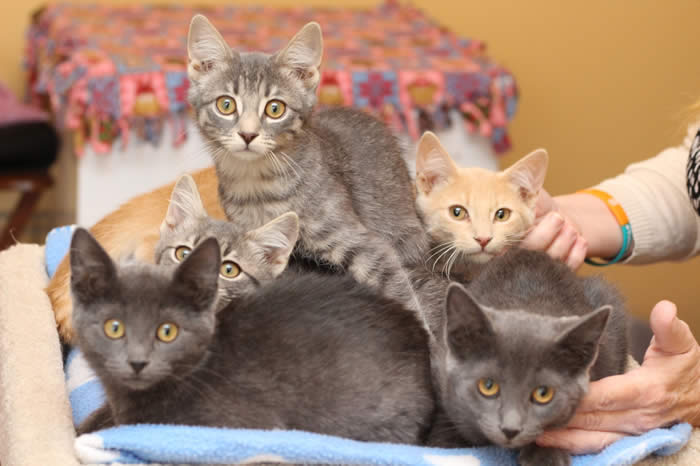 1.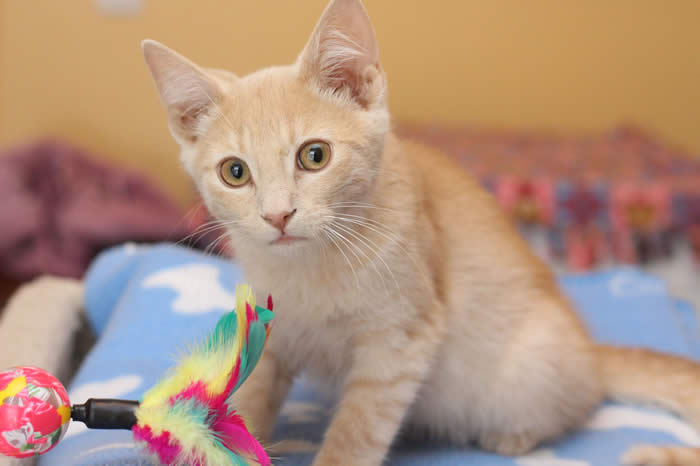 Sora
Colour: DSH Pale Orange
Born: Approx. June 23, 2021
Gender: Male (largest of the four)
outgoing and confident
loves short cuddles (too busy for long ones)
plays with anything that moves but loves his 'chirpy bird' toy, also likes honeysuckle
2.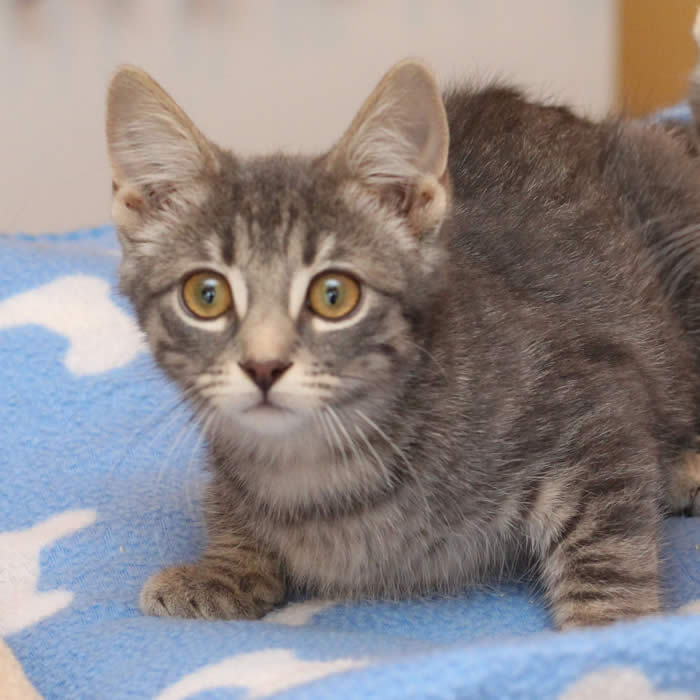 Wren
Colour: DSH Gray Tabby
Born: Approx. June 23, 2021
Gender: Female (almost the same size at Sora)
loves any kind of jingly ball and honeysuckle
very loving, likes to be handled and held
needs a playmate
is very enthusiastic about playing with her siblings - usually Sora and Kiseki
3.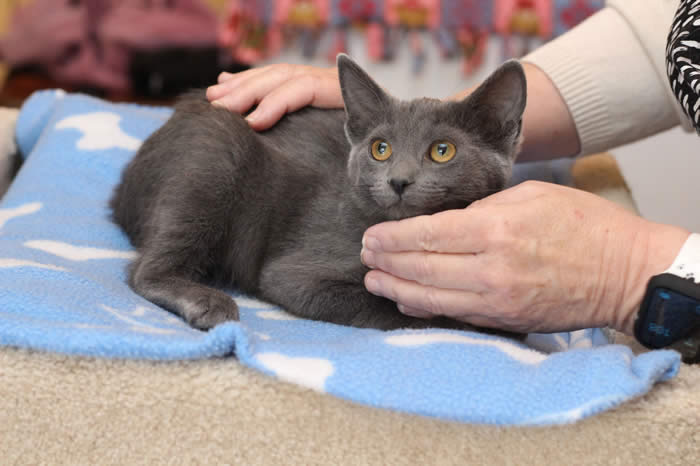 #3 ADOPTION PENDING!
Orla
Colour: DSH Gray (faint tabby markings)
Born: Approx. June 23, 2021
Gender: Female (smaller, close to Kiki's size)
mellow and quiet and sweet
likes to play-wrestle with her sister, Kiki
likes to be held and cuddled in a little blanket
would love to see Orla adopted with Kiki as a bonded pair
4.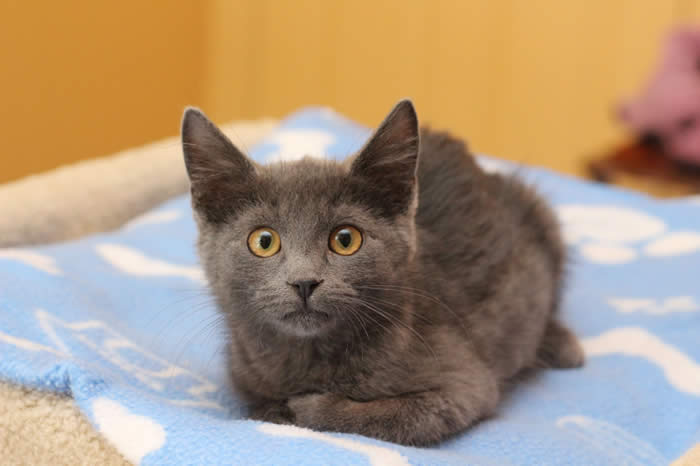 #4 ADOPTION PENDING!
Kiki
Colour: Solid Gray
Born: Approx. June 23, 2021
Gender: Female (the smallest)
mellow and quiet and sweet
bonded with her sister, Orla (chooses her sister for playtime)
likes to be held and cuddled in a little blanket
would love to see Kiki adopted with Orla as a bonded pair
5.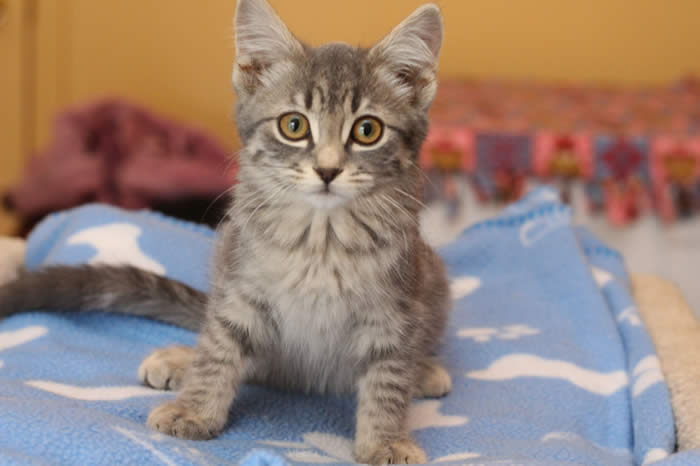 Kiseki (Japanese word for Miracle)
Colour: Gray Tabby (a little lighter than Wren)
Born: Approx. June 23, 2021
Gender: Female (officially the smallest!)
didn't waste any time - immediately started playing with her siblings as soon as she was re-united
curious and very outgoing (probably the most outgoing of all of them)
a joyful little girl
likes cuddling and tummy tickles
a good eater (making up for lost time)
As well as the health exam and first vaccinations, the adoption fee of $225 each covers the kittens' future spay/neuter surgeries and micro-chipping. Just before they reach six months of age, around January 16, 2022, PAW will make the arrangements for the surgeries with our primary veterinary clinic and the adopter.
History:
In the spring of 2021, area residents noticed a matted little cat coming semi-regularly to a kitty food bowl on their deck. Trapping was attempted but the gray girl remained elusive. She then went MIA for a few weeks - which is what new moms often do. Sure enough, in early August, four little kittens were seen with her. They came from a large yard with a garden shed across the street. A trapping plan of action was put in place and over the next two nights, all were safely caught. See UPDATE below.
We always hope that cats and kittens from the street are already tame (the adult) or the kittens are young enough to be socialized. We think the mom has probably had a home at some point but we will give her time to relax and replenish her body and then see where she's at.
The kittens are another matter! Within just a few days they were enjoying tummy tickles, cuddles, lap time and kisses. Who can resist kissing those little faces? Because their mom had a food source, they are all in good health. Mother cats have to consume many calories in order to adequately feed their babies (and themselves). And no ear mites! They will be vetted and vaccinated on September 1st and ready for adoption soon after that.
Ela is a very good mother. She did a wonderful job of feeding and protecting her babes. When they were old enough to toddle along behind her, she brought them across a wide street, to show them where to get food. On the first night of trapping, we caught the mom and two babies. Of course, it was a nail biter, waiting a whole day to see if the other two babies would make their way back on their own. Feeding time was in the middle of the night and, bless their sweet little hearts, the two tiniest made their way across the street, right on schedule. One -- two, into the traps they went. They were hungry - and so happy to see their momma.
Please remember that adopting two is better than one.
UPDATE: WE THOUGHT THERE WERE ONLY FOUR KITTENS BUT THREE WEEKS LATER, THE RESCUERS NOTICED ANOTHER ONE! THEY REALIZED #5 HAD CONTINUED TO COME EACH NIGHT TO EAT AT THE OUTSIDE FOOD BOWL - FOR THREE WEEKS - DESPITE HAVING NONE OF HER FAMILY WITH HER! ALTHOUGH SHE WAS TINIER THAN THE OTHERS WHEN CAUGHT, SHE SURVIVED! WE NAMED HER KISEKI WHICH MEANS 'MIRACLE' IN THE JAPANSE LANGUAGE
To send an inquiry, click here.