Sora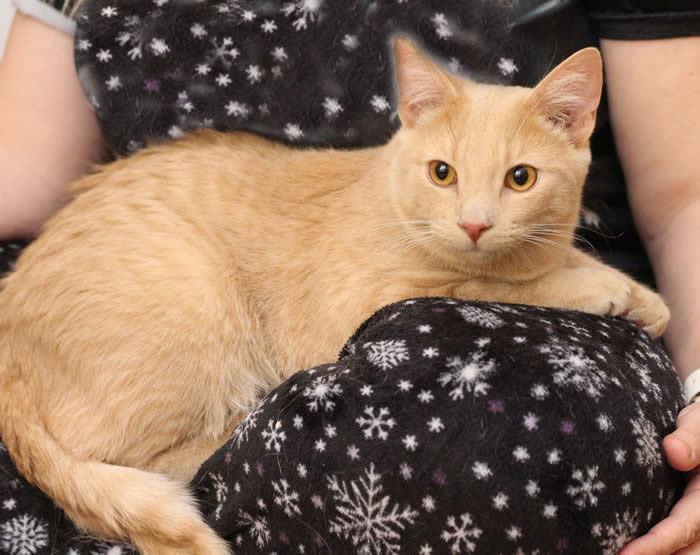 Sora
Colour: DSH Pale Orange
Born: Approx. June 23, 2021
Gender: Neutered Male, microchipped
History:
In the spring of 2021, area residents noticed a matted little cat coming semi-regularly to a kitty food bowl on their deck. Trapping was attempted but the gray girl remained elusive. She then went MIA for several weeks - which is what new moms often do. Sure enough, in early August, four little kittens were seen with her. They came from a large yard with a garden shed across the street. A trapping plan of action was put in place and over the next two nights, mom and all her kittens, including Sora, were safely caught. Three weeks later, a fifth kitten reunited with her family. Mom, Ela, is doing fantastic in her foster home. She and Sora are the only ones from that family still waiting for their perfect persons.
Personality:
Within just a few days of being in a foster home, Sora and his siblings were enjoying tummy tickles and cuddles. As a young cat, Sora has now matured into an outgoing and happy fellow. Transitioning to a new home may take a few days but with this lovely boy's personality, we know that his quest for fun and curiosity won't keep him shy for long. Hint: if you want your new cat to be your friend, PLAY with him! Sora will play with anything that moves! He'll also invent his own games. He also enjoys relationships with other cats - in fact, he's never known life without them. Tyson is one of his besties. Sora loves finding a spot on a lap and, at the end of the day, he will be on your bed before you are. Says foster mom "he's such a wonderful cat - a big boy body with a kitten heart."
If you would like to inquire about Sora, click here.
Sora and his foster brother, Jaycee: