Tyson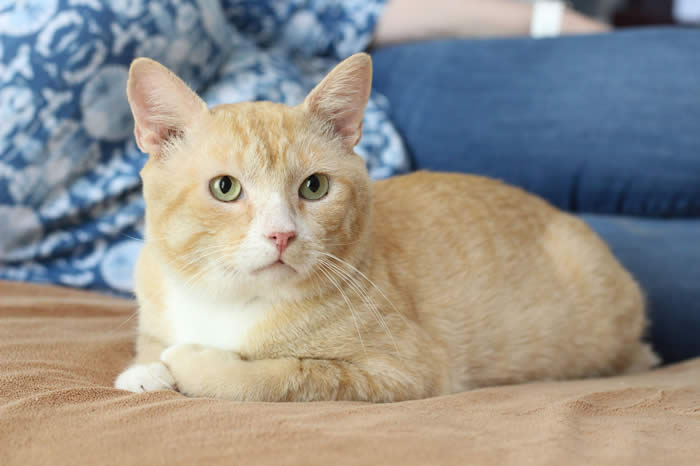 Tyson
Color: DSH Pale Orange and White
Born Approx: October, 2019
Gender: Neutered Male, microchipped
History:
Tyson was trapped inadvertently when we were trying to recover a PAW foster cat who had escaped from his foster home. We did not find our MIA boy, Garfield, but we haven't given up either. It was evident Tyson was in rough shape and we had to help him. His leg had a large wound and needed immediate attention. His ears were very sore due to ear mites. But soon, all his medical needs were taken care of and he is now the picture of health.*
Personality:
Tyson is a lovely boy! He's soft-hearted and gentle. Initially, it took time for his trust to develop because of the terrible life he was living on the street. It is abundantly evident that Tyson has previously known love, probably when he was a kitten. He's not much older now and remembering love came quite easily. His favourite spot will be beside you. He's re-imagining kittenhood and playing vigorously with toys. He likes to learn new things, for example, the fist/head bump. He has a strong desire to play with his person and will get her attention with body boops and by flopping down beside her. Initially he was a little shy with the other adult cats but that quickly changed when he discovered that it opened up a whole new world of friends. He keeps himself super clean and has very short hair. He loves treats and our smart little guy knows his name already!
But something we discovered about Tyson is that, young as he may be, he loves being a kitten's uncle. Living in his foster-home with several little ones, he has taken them under his wing, playing with them, grooming them and generally spending time with them. What a marvellous mentor he would be, or an older brother: being still youthful himself, Tyson can teach a kitten or two, then be their playmate as they mature. Maybe he enjoys youngsters so much because he still sees himself as one.
Another positive (we could go on and on) is that Tyson enjoys small children. He will lie on their laps and likes when they play with him with a string toy. He will be a great family cat.
*Tyson is FIV positive. It was slightly disappointing news, not because this condition would make him an unsuitable addition to any family, but because we know people may fear FIV unnecessarily. FIV is a disease which suppresses a cat's immune system, and makes it harder for them to fight secondary infections. Humans cannot catch FIV, and cats catch it almost exclusively from deep, penetrating bite wounds, not nips and not scratches, not shared food dishes. It is passed by the kind of injury sustained in severe, life-and-death territorial struggles (usually amongst unneutered males). There need be no worry of it spreading through water-bowls, or litter-boxes. An FIV-positive cat can be a very happy only-child but can also live with other cats without humans fearing for their other feline friends. Of course, personalities and habits of the resident cats also factor into a peaceful integration. With good food, supervision of their health and, of course, an indoor life, FIV-positive cats can live long and happy lives. We know Tyson will do just that with the right family.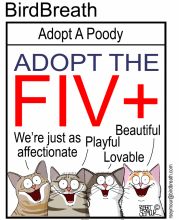 If you'd like to talk to us about Tyson, click here and we will be in touch.
Uncle Tyson and "his" newest protege, Lily (April 2022). We just love how Lily is looking at Tyson, completely trusting: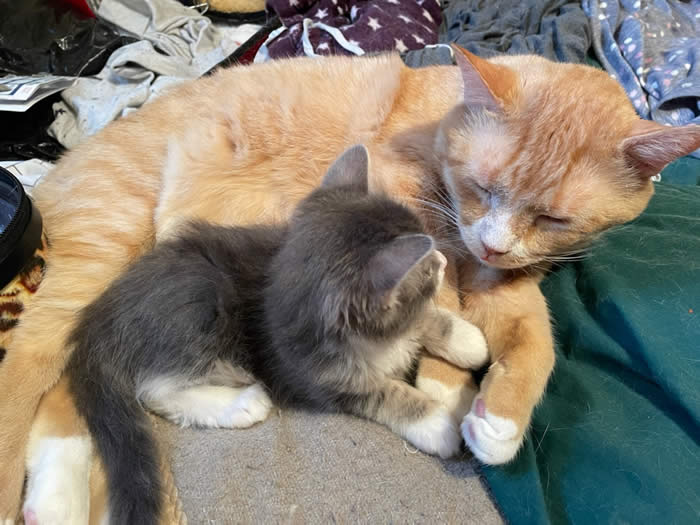 NIght-time snuggles...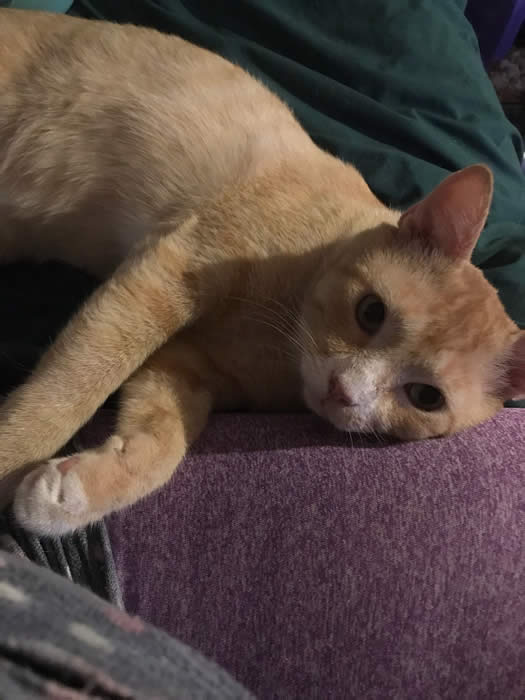 The day he was trapped: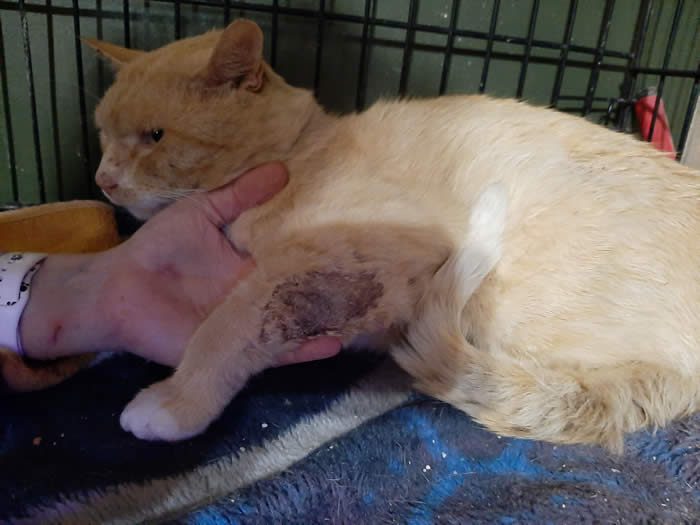 A couple of weeks later, nicely healed: