Yoshi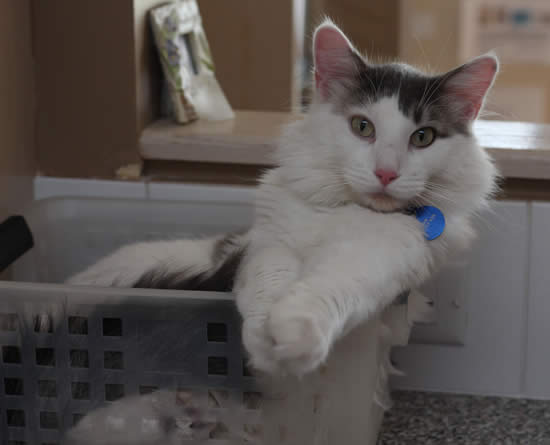 ADOPTION PENDING!
Yoshi
Color: DMH White with Gray Tabby Patches
Age: Born Approx. August, 2014
Gender: Neutered male, microchipped
History:
Yoshi was a young stray in a west side Lethbridge neighbourhood who found refuge in the back yard of a kind family. They had a much loved indoor cat of their own and their hearts went out to this little visitor. Advertisements were created, neighbours were consulted, but no one came looking for a little lost cat. The family didn't mind having him there as he was particularly good with the three young children. The family kept an eye out for him, played with him, put out food and water and made sure he was still there every day. Even though the children were quite delighted with their guest, the parents knew a more permanent plan was needed and so PAW was contacted.
Personality:
First order of business was to get Yoshi to a vet clinic for a health check. There it was discovered that he had an undescended testicle. The next day he was successfully neutered. The incision took a few extra days to heal but soon Yoshi was fully recovered and ready to explore his foster home. He is curious and athletic with a quiet voice that he seldom uses. He likes to be on foster mom's bed at night. He likes to play with a cat tunnel and any toy that he can bat around with his paws. He appreciates vertical space. His introduction to the small resident dog went smoothly. He shares his foster home with several other cats (it's a bit crowded) and is somewhat selective with his friends. He would do well as an only-cat and, in fact, we feel he would benefit from having more one-on-one attention with his very own person. All PAW cats are placed on a foster-to-adopt basis so you can get to know your little guest before a final decision is made.
You are welcome to fill out an Adoption inquiry here.