Theodore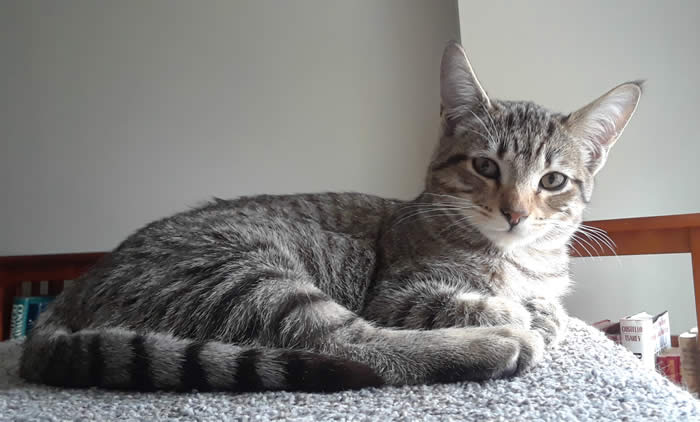 Theodore
Colour: DSH Brown Tabby
Born Approx: June 4, 2023
Gender: Male (will be neutered Nov 27, 2023)
History:
A very pregnant mother cat was was being fed by a caring person who lives in an apartment building in central Lethbridge. As it became more obvious her girth was increasing, the caregiver knew he had to take action before she gave birth outside. He set up a trap and Astrid walked right into it.
Eleven days later on June 4, 2023, Astrid birthed four healthy kittens - Miss Chiff, Raven, Dale and Theodore. Cudos to the people who were looking out for Astrid when she was homeless as this is why she and her kittens have all done so well. Raven and Dale have been adopted as has their mother, Astrid.
Personality:
Theodore looks to be developing into a strong young mancat with some heft to him. There is muscle growing in those kittenish limbs, and he loves to run and wrestle. When meeting new people, he is a little wary but not very shy. He'll allow petting but his tail may stay down for the first day: he's making sure you're his sort of human. Then he'll remember that he likes everybody, the tail will go up and it's time for fun with another friend! Theodore has the makings of a lap-cat, as he has settled in cosily and happily on his foster-guardian more than once.
Theodore is currently living with his sister, Miss Chiff (also available for adoption), and his easy trust of new people is an inspiration to her. Theodore loves playing but he was a bit reticent when his foster-guardian brought out a string-toy. A couple of days of watching other cats play, though, and he was in the game. With other cats, he first warns them that he is a mighty warrior – but he isn't a fighter, so few cats will fall for that. Even Theodore soon gives up that pretence, and a new feline pal is in the offing.
He and his sister have strong appetites, so separating them at meal-times is probably a good idea. When released from the room where they were eating, they'll rocket out – usually straight to the nearest food-bowl, whether it's still in use or not. While he is close to his sister, Theodore and Chiff can go to separate homes. However, both would be happy with another active cat to play with – and if you are thinking of two kittens, then adopting a couple who already know each other and get along is a good idea.
Kittens need your time: playing, holding, brushing, nail trimming, picking up, handling, supervising and making your home kitten-safe. If they stop receiving attention, they'll stop wanting it.
If you would like to inquire about Theodore, please submit an inquiry here.
When Theodore was a little younger: