(Miss) Chiff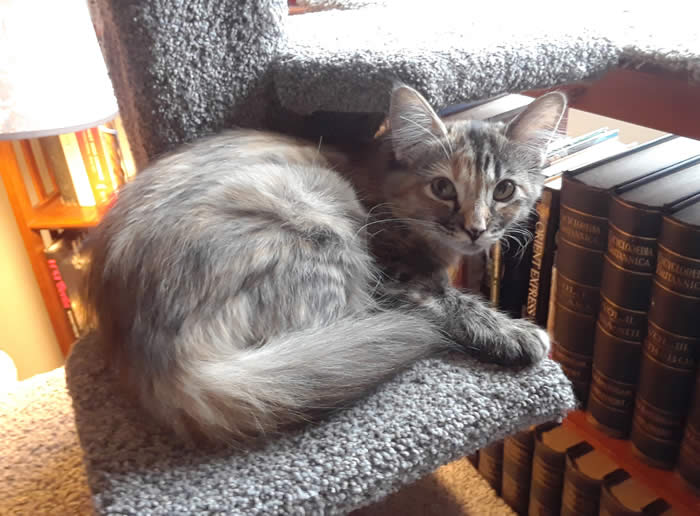 Chiff
Colour: DMH Dilute Tortoiseshell
Born Approx: June 4, 2023
Gender: Female (will be spayed towards end of Nov/23)
History:
A very pregnant mother cat was was being fed by a caring person who lives in an apartment building in central Lethbridge. As it became obvious her girth had increased, the caregiver knew he had to take action before she gave birth outside. He set up a trap and Astrid walked right into it.
Eleven days later on June 4, 2023, Astrid birthed four healthy kittens - Miss Chiff, Raven, Dale and Theodore. Cudos to the people who were looking out for Astrid when she was homeless as this is why she and her kittens have all done so well. Raven and Dale have been adopted as has their mother, Astrid.
Personality:
Miss Chiff is a pretty, slender girlcat with fine, almost medium-length fur that adds to the impression of an almost weightless little creature. But don't let impressions fool you: she is an active, healthy youngster who can hold her own in games with any cat of a similar age. Initially, she is shy around new people. Currently living with her brother, Theodore (also available for adoption), she looks to him for guidance on how to behave with new people. Even so, it doesn't take her long to come around. Slow strokes down her back, or short ones on her head will have her purring. Then she'll start looking for her person to spend time with him.
Interestingly, when it comes to play-time, Chiff is the one who will be front and centre – she has taught Theodore a thing or two about playing. If she's chasing a ball or fuzzy mouse, or fighting a string-toy her human is flipping about, Chiff is a warrior. Both she and her sibling have excellent appetites; if they are residing with other cats, it's best to feed them in a separate room. Watch out when you release them, though: they'll zoom out seeking more food, even (especially?) if it's in someone else's bowl.
As close as she is with her brother, the pair can be adopted individually: but both would definitely benefit from another active young cat to play with. (If you are thinking of two kittens, then adopting two who already know each other and get along is a good idea.) Check out Brazil's bio too! She's become very good friends with him!
Kittens need your time: playing, holding, brushing, nail trimming, picking up, handling, supervising and making your home kitten-safe. If they stop receiving attention, they'll stop wanting it.
If you would like to inquire about Chiff, please submit an inquiry here.
Chiff (l) and her real brother, Theodore (Nov 2023)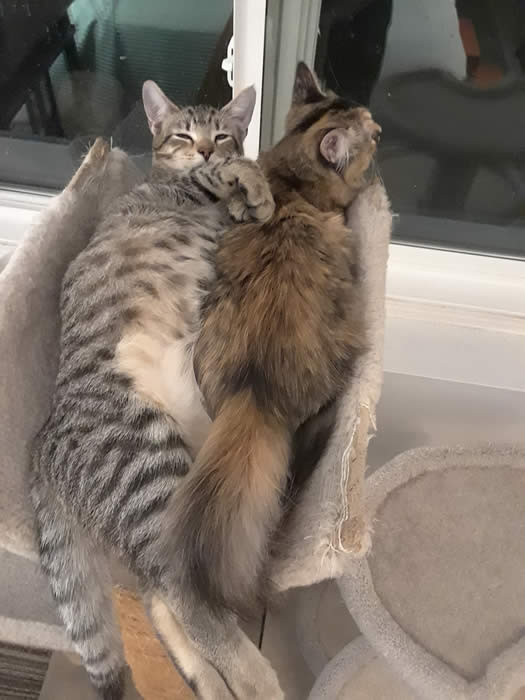 Little Miss Chiff and (big) brother, Brazil: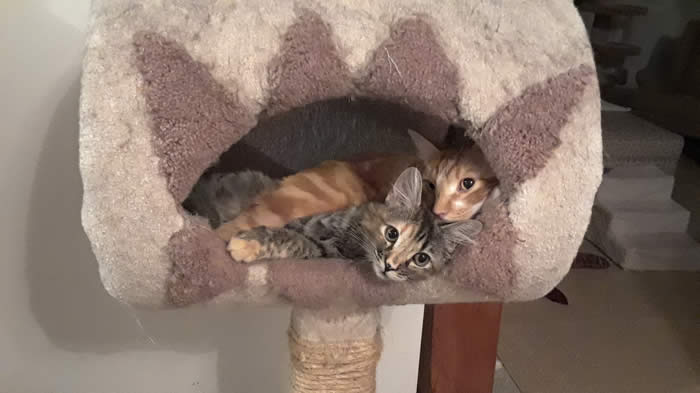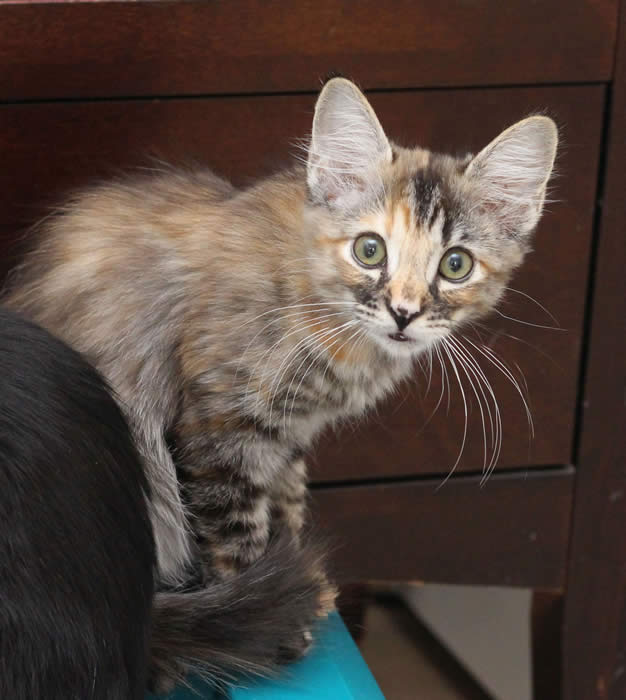 When she was a little younger: