Brazil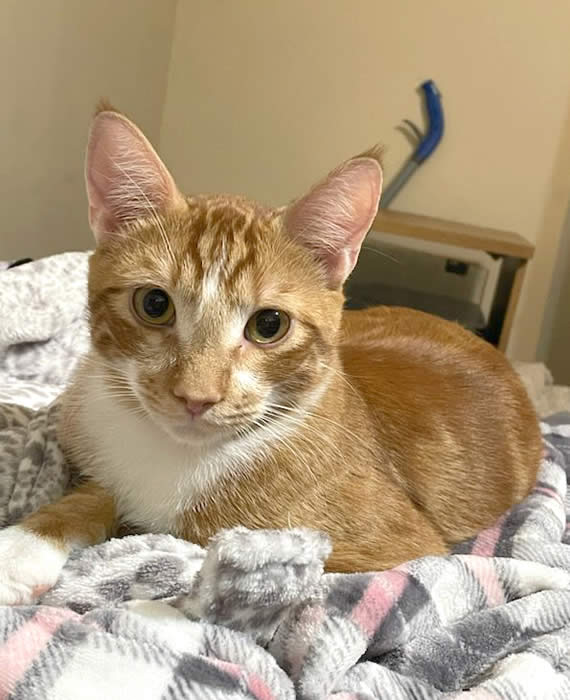 Brazil
Colour: DSH Orange & White Tabby
Born Approx: April 22, 2022
Gender: Neutered Male (microchipped)
History:
A curious home owner (who happens to be a PAW foster-provider) asked her neighbours why they were boarding up around the bottom of their backyard shed. The answer was that they were "tired of mother cats giving birth under it". With all the nailing and hammering, the little momma had bolted, along with her kittens but one. That one was rescued almost immediately (and later adopted). A few weeks later, the remaining three kittens were trapped but their orange mom remains elusive, unfortunately. We still hope to rescue her. The three remaining kittens are the 'Nuts': Hazel, Cashew and Brazil (see the others' separate profiles).
This is the same shed under which Ela had given birth. She and her kittens were rescued in 2021.
Personality:
With orange tabby fur that almost shimmers, Brazil is the biggest of the three Nuts siblings, but also somewhat reserved compared to the others. He doesn't hide (well, he may when he's new to a home, as almost every cat does) but he might come across as a little reticent. Yes, he's a little bit timid, but also a little bit bold. Timid? Meeting new people is still a cautious experience for Brazil, so he takes a while to warm up. But when he does, he'll run to greet you at the door when you come home from work. Bold? Watch him walk right up to a newly rescued cat and want to be pals! Once he offers friendship, Brazil means it. He delights in the company of other cats, playing with both those older than he, and younger. He'd make a great pal for a lonely feline. And once he becomes accustomed to a new home and new people, he will make a great pal for a lucky human.
If you are interested in Brazil, you are welcome to fill out an inquiry here.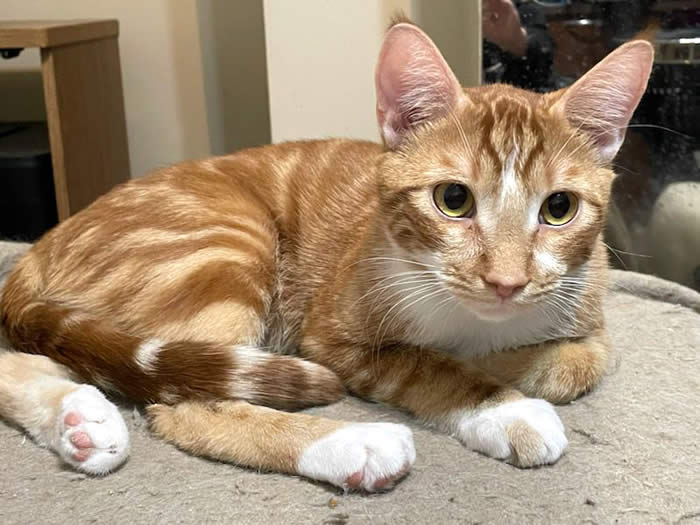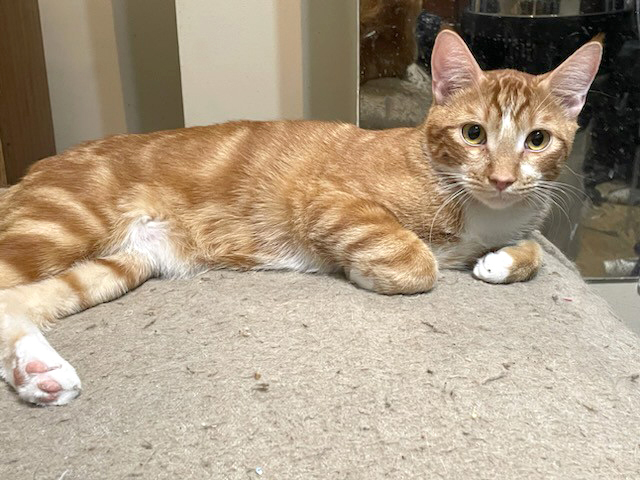 Younger, about 5 months: