Spottie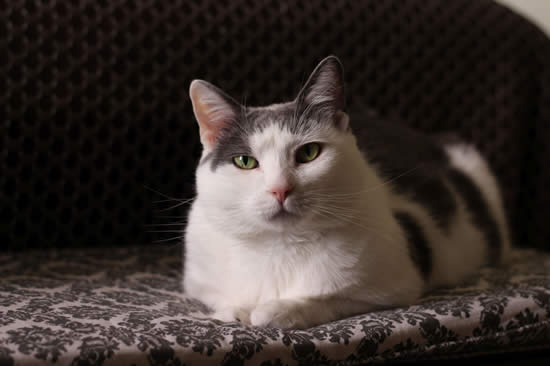 Spottie
Color: DSH White and Grey
Age: Born approx. April, 2009
Gender: Neutered Male
History:
Spottie was found as stray in the London Road area in 2013. It's always difficult to understand why such nice cats end up homeless. He was in a foster home for a couple of years, went on to be adopted in 2016, but sadly, was returned through no fault of his in May, 2017.
Personality:
In the words of his experienced foster guardians --"Spottie is a very well-rounded cat: well behaved & mild mannered. Nevertheless, he can get restless and thus loves to have attention from people at regular intervals – preferably by rubbing his haunches, hips and bum [against you]! He'll also show affection by rubbing his nose and muzzle against you, even hopping on his hind legs to give you a nose-bump; His purr has a masculine rumble to it, and it is quite easy to get it going if he's in the mood - and you rub the right spots. If you get to know his patterns, he will play with a string toy, but you must be very patient: he's a stalker and a pouncer. Like any good cat, Spottie enjoys bright sunny days and a nice sun spot to lay and clean himself in."
For added entertainment, Spottie loves cat grass; his foster mom says he is a "happy camper" when there's a steady supply. He also enjoys thicker paper (newspaper and such) to tear into and pounce upon. Spottie isn't high-maintenance, demanding or dramatic. He's friendly, easy-going and uncomplicated.
If you would like to know more about Spottie (or any of the cats), send an inquiry by clicking here.