Russel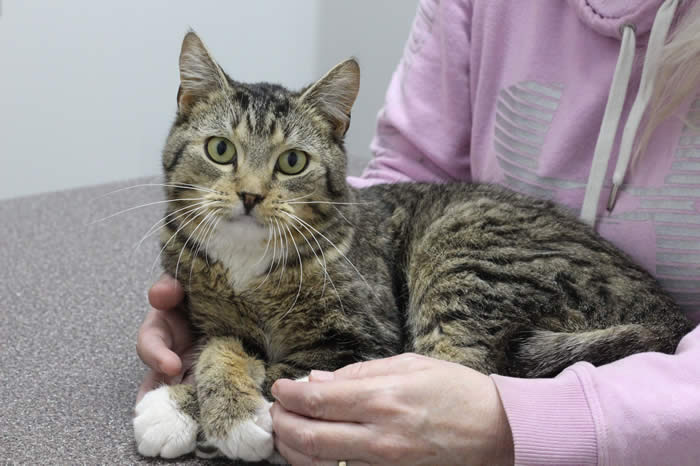 UPDATE: March 17, 2023: Russel continues to have enlarged lymph glands and has now developed stomatitis (inflamed gums). We've decided to do a further biopsy, not just fluid this time, an actual tissue biopsy of a lymph gland. Surgery is scheduled for March 20, 2023. He will also have dental xrays and as many teeth extracted as possible without leaving him under anesthetic too long. A full mouth extraction can actually cure stomatitis in some cases. Although extreme, this treatment is not uncommon. Over the years, we've had it done for several PAW cats. Recently, we re-tested Russel for FeLV and FIV and also tested for blood parasites and anemia. All were negative. Once again he was prescribed antibiotics and doxycycline but they didn't have an impact on his lymph glands this time either, nor his gums.
Russel
Color: DSH Golden Brown Tabby, white chin, chest and paws
Age: Born Approx. August 1, 2021
Gender: Neutered Male/microchipped
History:
We were notified of a stray kitty in a small town outside of Lethbridge. The resident said the young visitor was sad and thin. She'd seen him off and on for a few weeks and was pretty sure he'd been discarded. Because we had a foster family in the vicinity who was willing to take in Russel immediately, he became PAW's newest rescue. He was immediately booked for an evaluation where it was agreed, he was underweight and also dehydrated. He was also a bit congested so was prescribed antibiotics and a de-wormer. The de-wormer worked within a couple of hours and by the next morning, Russel was already feeling better. In fact, he's been quite ravenous and we are letting him eat as much as he chooses!
Personality:
Russel is a sweetheart! You can see from his pictures, he is very calm. He's a gentle little fellow too. A couple of weeks before he was neutered, his foster mom noticed he had enlarged lymph glands. When he was having his neuter surgery on July 3rd, our vet took a fluid sample of one of his lymph glands and sent it away for testing. The results were nothing too unusual, inflammation with an unknown cause. He had been previously tested for the usual viruses (Feline Leukemia and Feline Immunodeficienty), all were negative. Since his neuter surgery, he's been doing very well. His appetite remains good, he's gaining weight and really enjoying playing! Russel really is the kindest of little souls. He is incredibly indulgent and gentle with other cats.
If you are interested in adopting or fostering Russel, click here