Pippa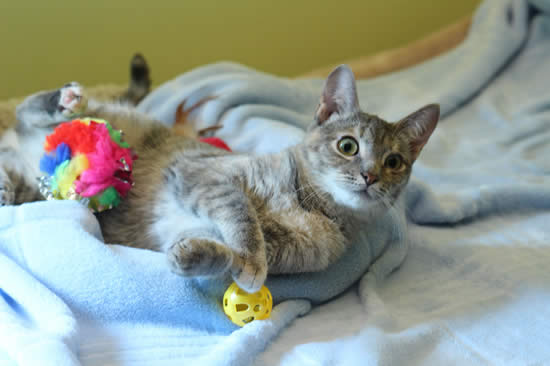 Pippa
Color: DSH light gray/tan & peach tabby (there's some tortie in there!)
Age: Born July 28, 2018
Gender: Spayed Female/micro-chipped
History & Personality:
Pippa and her brother Magnus were born to a rescued pregnant stray (mom stayed with her rescuer). They are similar in many ways but especially in how they adore people. When she meets someone for the first time, Pippa is shy, a bit reticent. But it isn't long before she's ready for some attention. She will lie down and want petting and stroking, and she'll let you know how she feels about it by kneading the floor, her blanket or even the air. Then, after that, she wants love. She'd rather be cuddled in your arms than anywhere else.

Well, almost, because she does have a curious nature, and she may want to explore a bit, too. She enjoys discovering new things; she'll watch them, learn about them and - she hopes - get to play with them. She likes hiding behind a curtain or under a bed and make an attempt to startle people as they pass by...it doesn't really work. Because, after all, it's all about having fun. She's still a kitten in our books and that's what kittens do - try to get something or someone going! But at the end of the day, it's all about companionship and affection, and to get as much as that as possible, she'll want to sleep next to her human friend.
If you'd like to inquire about Pippa, click here.
Magnus (left), Pippa (right):