Pippa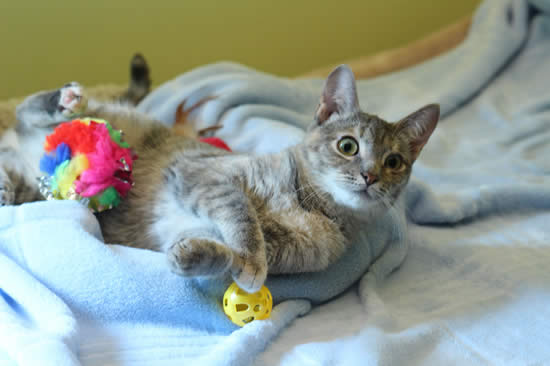 ADOPTED!
Pippa
Color: DSH light gray/tan & peach tabby (there's some tortie in there!)
Age: Born July 28, 2018
Gender: Spayed Female/micro-chipped
History:
Pippa and her brother Magnus were born to a rescued pregnant stray mom (mom stayed with her rescuer).
Personality:
Pippa's foster mom calls her a tiny, silent ninja because she loves to sneak up on people or other cats and...gotcha! But if you are watchful, you may see two sneaky little front paws poking out from under or behind something - she hasn't quite perfected the 'invisible' part of her craft yet. She is curious but not pushy; bright and alert, she's always looking for the next interesting thing to do (you can tell by her pictures). This makes it sound as though Pippa is all action but no, she is actually the quiet type. "Small in stature but big on cuddles" describes this girl. At bedtime, she will curl up on her back and snuggle into the crook of your arm - in your bed, of course!
Magnus (left), Pippa (right):