Magnus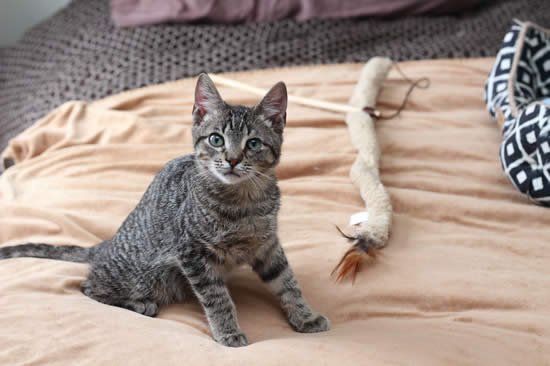 Magnus
Color: DSH Brown Tabby
Age: Born July 28, 2018
Gender: Neutered Male
History & Personality:
Magnus and Pippa were born to a rescued pregnant stray (momma stayed with her rescuer). Magnus is a cautious little fellow, shy initially but that doesn't last for long with humans. He lives in a multi-cat foster home and does very well with the other cats (especially his sister)...unless one of them tries to take away his favourite little toy – then he becomes a ferocious wee tiger. Well, no one is really in much danger from this adorable youngster but he thinks they are! You see, Magnus is serious about play-time. He puts a lot of effort into his activities: just watch him chase the fish that pop up on foster-mom's tablet. Yes, he likes video-games! But he also has a soft side, and he loves it when someone will share his affection and give him attention. After all, to Magnus, that's part of having fun too!
If you'd like to inquire about Magnus, click here.
Magnus (left), Pippa (right):