Phillip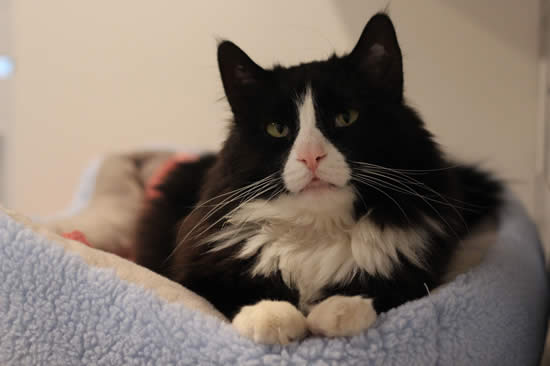 Adopted!
Phillip
Color: DMH Black and White Tuxedo
Age: Born Approx. October, 2013
Gender: Neutered male
History:
Phillip (new name) was impounded in a holding facility for strays in a town outside of Lethbridge. He stayed there for a week but remained unclaimed. The policy there is that once an animal, dog or cat, has waited more than 72 hours, efforts are made to relocate it to a rescue group. If that's unsuccessful, the strays are destroyed. But Phillip got lucky. He was placed in the care of LCCR and from there came to PAW.
Personality:
Phillip has come a long way since his days as a stray, not that long ago. Then, he was friendly but wary. You would be too if you had to live by your wits and instinct. But now he knows that people can be very friendly indeed and he's reciprocating. In fact, right now, he is a 'shop-cat' in a very public venue, where strangers can meet and get to know him. This doesn't bother him in the least. In fact, he likes to be petted and fussed over. He knows his name and responds to it, and may even follow you around the store, if he thinks you're interesting. Tuxedo cats settle in to new surroundings easily and like to reap the most benefit from any situation. That's Phillip. He gets along well with people and other cats, too. Having been in a multi-cat foster-home, we know that he likes the idea of a feline friend or two. So if you have an empty home calling for a pet, or already have a cat who craves a pal, Phillip may be just what you are seeking.
If you are interested in adopting Phillip, fill out an Adoption inquiry here.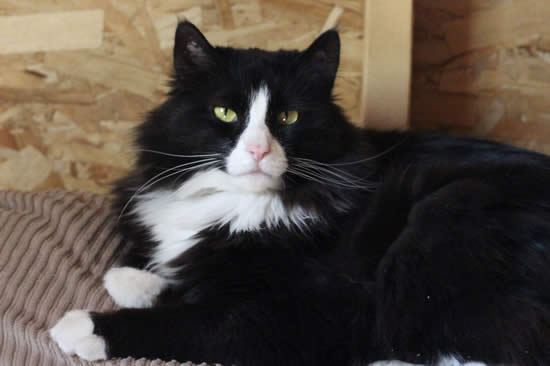 Phillip and a buddy: