Phantom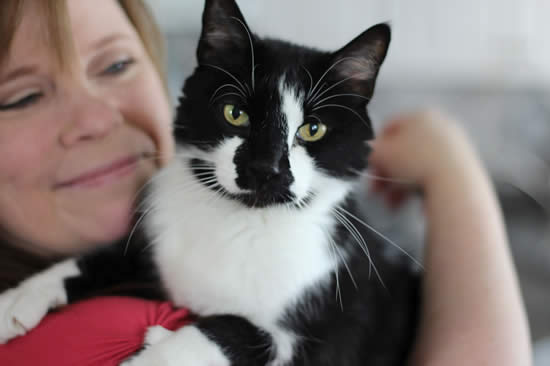 Phantom
Color: DSH Black & White
Age: Born Approx. May, 2014
Gender: Neutered male
History:
Phantom (new name) was an owner surrender. We were told his life was in peril. He was underweight when he came into the rescue program in early March, 2017, but his long body is filling out nicely. He was previously neutered but has now been vet checked and vaccinated by PAW.
Personality:
Although we think Phantom may have been somewhat disregarded in his previous home, we don't feel he suffered any kind of physical harm. He wasn't shy or frightened when he arrived in his foster home. And although he hadn't lived with other cats, he wasn't put off by having to share his space with several new feline roommates and a rabbit. But he hasn't really joined in the fun and games, at least at this point; he's more one to be on the sidelines, quietly observing all the goings-on in a very gentlemanly and reserved fashion. What he enjoys more overtly are his interactions with people and, for some reason, is particularly fond of adult males. He will nuzzle and groom your face (if you'll let him). He's snuggly too, on a lap or chest, or your outstretched legs. At night, he joins his foster parents on their bed - no matter that it's a bit crowded, he still finds a little spot for himself. Phantom has already learned his new name, a sure sign of his intelligent and charming nature.
You are welcome to fill out an Adoption inquiry here.