Peanut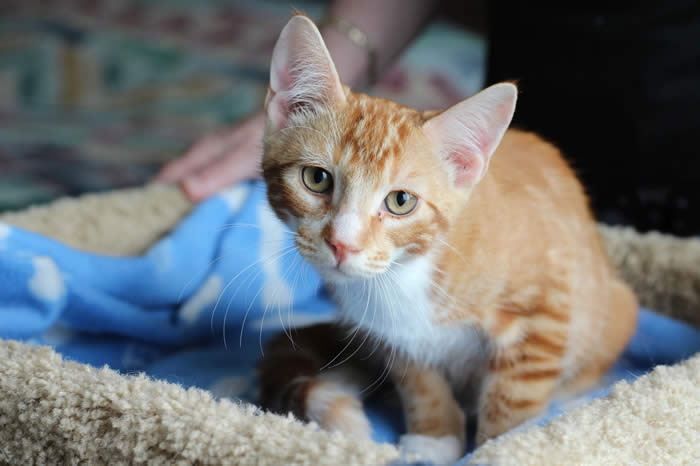 Photo taken July 29, 2022
ADOPTED!
Peanut
Colour: DSH Orange & White Tabby
Born Approx: April 22, 2022
Gender: Male
History:
A curious home owner (who happens to be a PAW foster provider) asked her neighbours why they were boarding up around the bottom of their backyard shed. The answer was that they were "tired of mother cats giving birth under it". They wanted the current family gone. With all the nailing and hammering, the little momma had bolted, along with her kittens. The neighbour had left an opening so as not to trap anyone under the shed. A few hours later, a tiny orange kitten was seen sitting in the grass, bewildered and alone. We're not sure why he would have been left behind - other than his mother was likely completely traumatized. A few weeks later, his mom and siblings were spotted. The remaining three kittens have since been trapped and are being socialized - however we DO NEED FOSTER HOMES FOR THEM. They have been officially names the Nut family - Peanut, Brazil, Cashew (all males, all orange) and Hazel (gray torbie, female). The orange mom remains elusive, unfortunately, but we won't give up.
This is the same shed under which Ela had given birth. Our foster provider rescued her and five kittens in the late summer of 2021.
Personality:
After a day of hissing and fussing, little Peanut realized his human caregivers were kind and useful! Soon he was enjoying petting and gentle tummy rubs. He's a very sweet little guy and loves other cats (who are very important for an orphaned kitten's emotional wellbeing). He's talkative and knows how to ask to have his needs met: I'm hungry, I'm ready to play, I need to nap on you. He's not keen on being held when his person is standing up but is completely comfortable with snuggling and cuddling in the cozy crooks of your arms and legs if you are sitting or lying beside him.
Peanut has been double vaccinated and is ready for adoption. His neuter surgery and microchipping will be arranged with his adopter at our primary clinic when he is about six months old. Both are included in his adoption fee.
Peanut enjoying attention and a bath from Uncle Tyson:
Younger photos of Peanut: