Ela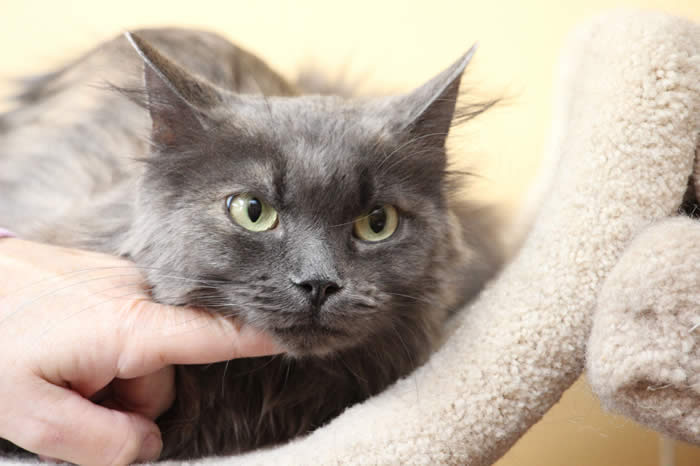 Ela
Colour: DMH Tortoiseshell
Born: Approx. August 7, 2019
Gender: Spayed Female, microchipped
History:
In the spring of 2021, residents of a small town outside of Lethbridge noticed a scruffy, obviously homeless little cat coming semi-regularly to the food bowl on their deck. Trapping was attempted but the gray girl remained elusive. She then went MIA for several weeks - which is what new moms often do - and sure enough, in early August, four little kittens were seen accompanying their momma to the food bowl in the middle of the night. They came from a large yard with a garden shed across the street. We assume they were living under the shed. A trapping plan was put in place and over the next two nights, the mom and her kittens were safely caught. Three weeks later, alive and well, a fifth kitten rejoined her family.
Personality:
We were so very relieved when Ela was finally caught. She'd probably had other litters and it wouldn't have been a good outcome for any of them. But this was her time. She's still a little shy - and looks the part in the above picture - but, to be fair, she had been brought into an unfamiliar home to have her picture taken - who wouldn't be a little frightened. She's certainly not the shyest little cat we've had in our system. She loves tummy rubs and chin scratches. She likes a calm, gentle approach and reciprocates in kind. Her purr is soft. She doesn't really like being picked up, but she will settle in for some loving on your lap. We are very proud of the progress she's made. We've said this SO many times - inviting a little shy cat into your life is filled with rewards. They usually bond deeply with their person - all they need is time. Ela is still young and we expect her to continue to make strides in her own, quiet way.
UPDATE June 10/22: Ela now lets her foster dad pick her up and hold her against his chest. He calls her his "Gorgeous Tortoise". The family decided to move her into his bedroom where there are no other cats and she is loving it! She sleeps on the bed, rolls around wanting pets, happily plays with her toys - we couldn't be happier with her progress. She is definitely ready to have her very own home.
If you'd like to inquire about Ela, click here.
Ela lying on her side - note her beautiful coat with some hints of peachy beauty: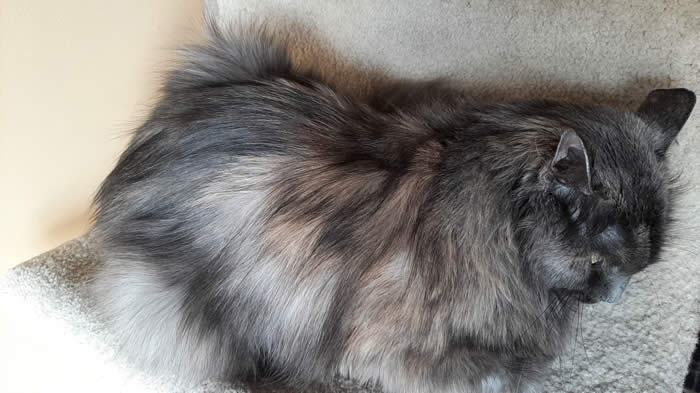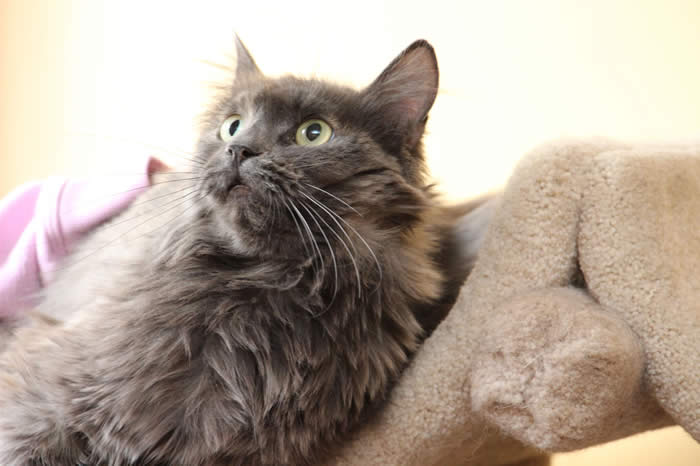 Ela's kittens! As of May, 2022, there are still three available for adoptiion - the two solid gray girls and the orange boy: