Millie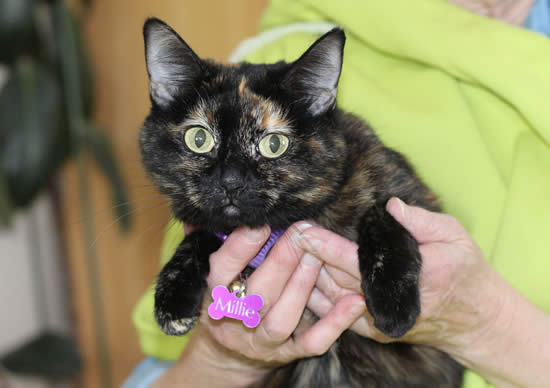 ADOPTION PENDING!
Millie
Color: DSH Tortoiseshell (small)
Age: Born Approx. September 7, 2015
Gender: Spayed Female
History:
Millie has had a couple of homes but was about to be homeless again when a family friend, one of our PAW members, heard her story and offered to take her. Millie had some behavioural issues but our experienced foster mom felt strongly that her challenges were due to environment and that she should be given every opportunity to rehabilitate. As with many rescued pets, a schedule the little animal can rely on, time to adjust, and gentle love is exactly what this tiny girl needed. Due to her size, her veterinarian feels that Millie was very likely the runt of her litter - even her teeth are teeny-tiny!
Personality:
Tortoiseshell cats are known for their intellect and this little darling is definitely a quick learner. Torties establish strong bonds with their people, maybe not immediately (because they are smart!) but a close relationship is their deepest desire. Millie loves to cuddle and will happily sit on your lap or beside you. She loves her pets and tummy rubs. She talks with little purry-meows and loves to hear all about your day. She sleeps on a small blanket on her human's bed. She also likes to perch up high so a cat tree or access to a tall piece of furniture would suit her well. Due to her small stature, Millie is easily intimidated by other pets - at least initially. Foster mom took her integration very slowly and now Millie's doing amazingly well with one other cat and four dogs! She is now ready for her forever home. She enjoys having someone home a lot and due to her tiny size, perhaps older children would be better than younger. Play time is very important for Millie. She loves toys on a wand so she can chase and pounce on the passing toy. She also likes bigger fuzzy mice. As with all PAW kitties, adoptions are done on a trial basis, sometimes up to a couple of months, so any prospective adopter would have plenty of time to gauge how she is adjusting to their home. Her foster mom is "very willing" to help a new family get to know Millie.
If you'd like more information about Millie, click here.