Millicent (Milli)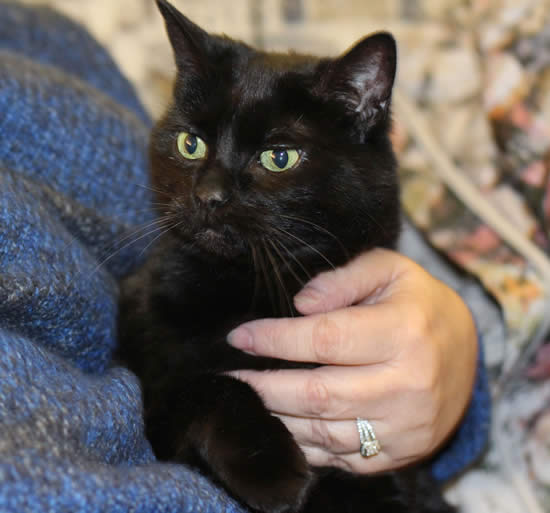 Millicent
Color: DSH Black
Born approx: January 15, 2005
Gender: Spayed Female
History:
Milli was adopted from PAW in 2005 when she was just a kitten. She lived with her family until the late fall of 2017 at which time she was returned. A returned cat is always a sad scenario for us but of course we'd rather have a cat come back than be given away to someone who may not provide proper care.
Personality:
When Milli was returned, she was suffering with a urinary tract infection and on antibiotics. A follow-up urinary analysis showed the issue has been completely resolved. Feeding a good quality canned food diet is important for any cat as it promotes a healthy urinary tract. The more moisture they take in, the more their body is able to flush out the bladder (canned food is 75% water). Food allergies and stress can also be causes of urinary tract problems. Milli obviously had not been feeling well in her previous home as we were told she had become unfriendly and kept to herself in the basement. In her PAW foster home, we have seen a return to her sweet-natured self. She was gradually integrated with another foster cat, Spottie and their relationship is developing nicely. With her foster parents, things progressed quickly. She loves spending time with them, especially on their laps, which prompts her purr/drool button to turn on. She's even sleeping on their bed at night. Her coat was matted when she arrived and so her foster parents went to work on it and managed to remove all of them. They said it was a great way to bond with Milli and made her "seem very happy". Her talking voice is a range of "squeaks and chirps". She's playful too! Her toys of choice are a track-ball and string toys. Yes, she may be getting up there in years, but adopting a mature cat allows you to share some of the best years of a cat's life. You won't regret it! Someone to invite her to be part of a family again - one that has time to spend with her - that's what she wants most of all.
If you'd like to inquire about Milli, please click here.