Malia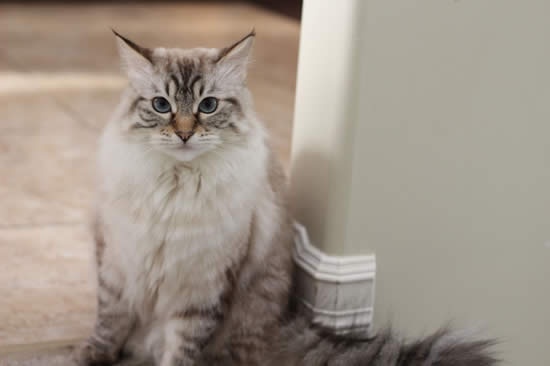 ADOPTED!
Malia (ma-lee'-ah)
Color: Lynx Point Himalayan cross
Age: Approximate DOB May, 2018
Gender: Spayed Female/micro-chipped
History:
Malia was surrendered to the Last Chance Cat Ranch in the late fall of 2019. Someone had found her as an outdoor stray, given her to someone who ended up not being able to keep her. She came in with what looked like a wide scrape from the back of her neck to the top of her head which healed up in a few weeks. A spay scar was revealed when her belly was shaved. She was accepted into the PAW system mid-November, 2019.
Personality:
Malia was placed with an experienced PAW foster provider who also has Sasha in her care. In the beginning, Malia was a bit shy with her new humans but soon her curious and loving nature began to show itself. She very much wanted to play with her new roomate; however, for Sasha, sharing a home with another cat was something new. Now, though, Sasha will indulge Malia with short games of you-chase-me-then-I'll-chase-you up and down the stairs. Having a feline playmate is a good experience, not to mention good exercise for both. Malia respects Sasha's boundaries and will happily play on her own too. String toys, balls, little mice, ties on the kitchen chair cushions, human fingers and toes under the bed covers, the bath mat -- just about anything can be turned into a game.
She's also a keen observer. She quickly learned which cupboard contained the food and, in the morning, does her best to encourage foster mom and dad to go downstairs -- breakfast time! Malia and Sasha envy each other's food bowl contents even though they are fed the same thing. Often, for no apparent reason, Malia's little voice can be heard, chirping and trilling, from somewhere in the house. She'll also answer if you are looking for her. As Malia became used to being safe and loved, she began to purr more often and has recently consented to curling up for a nap on foster mom's lap. She is not shy when visitors arrive, bumping and rubbing in ways that show she'd like to get to know them. Says foster mom, "When she looks up at you with those big blue eyes, you melt into them and she owns you." She'll want to share your bed at night.