Sasha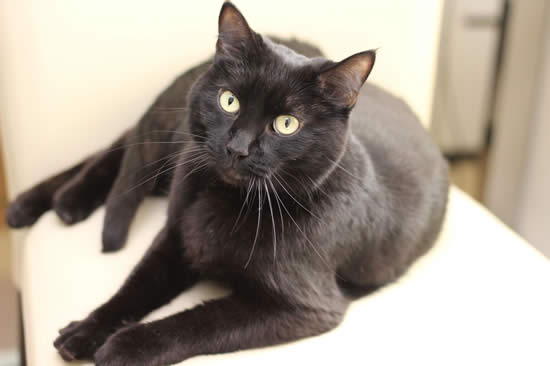 Sasha
Color: DSH Black (de-clawed)
Age: Estimated June, 2012
Gender: Spayed Female
History:
Sasha was found as a stray and remained unclaimed. This lovely house-panther is de-clawed and therefore would have a difficult time fending for herself outdoors. Another local rescue group agreed to take her in and shortly thereafter, Sasha was placed in a PAW Society foster home.
Personality:
Sasha is in good health and currently is in the process of accepting two new PAW cats into her foster home: Nic and Izzy. Her foster guardian is taking it slowly as de-clawed cats tend to be a bit frightened and unsure when their world changes. A super-busy home may not be in Sasha's best interests. With stray kitties, we rarely know anything about their previous circumstances, so care must be taken by their foster providers to figure out what their tolerances are. That she is a lap-cat has already been firmly established. Sasha cannot wait for her foster mom to sit down and give her pets. She very much enjoys playing with a string toy and will happily play hunt and chase with it. She has a little voice to converse with you and to let you know she is happy to see you and be with you. Her favourite perch is on a window ledge or a cat tree where she can see what's going on in the outside world. Sasha keeps herself very clean and has good litter box habits. She has a good appetite, enjoying both canned and dry food.
If you'd like to inquire about Sasha, click here.