Kermode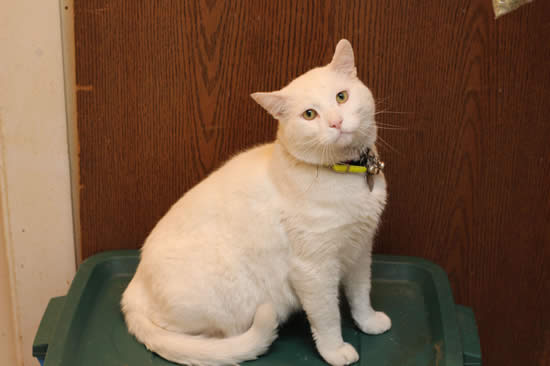 Kermode (KER ma dee) aka Kermie
Color: DSH White
Age: Born Approx. February 2013
Gender: Neutered male
History:
Kermode was rescued from a neighborhood in south Lethbridge on a cold winter's day in early 2014. He was seen going from door to door, asking to be let in. One door finally opened and into a warm and safe home he came. It was immediately evident that he was injured as he couldn't weight-bear on one of his legs. At a vet clinic, it was determined the one year old had bite wounds on his foot and shoulder. But all turned out well; everything healed quickly. He was neutered and vaccinated shortly thereafter. Kermode is being surrendered due to the illness of his kind-hearted rescuer.
Personality:
He is named after the Kermode bear (Ursus americanus kermodei), also known as the "spirit bear", a rare subspecies of the American black bear living in the central and north coastal regions of British Columbia. They are noted for having white or cream-coloured coats like polar bears. He may indeed resemble a pint-sized bear, but his big heart is so very gentle and loving.
Kermode was much loved and he loved well in return. He prefers to have his human in his sight-line and is described as "wise, calm and sweet". He's not quick to react, preferring to fully assess a situation before he decides if it deserves his continued attention. He has lived with other cats and friendly dogs and did very well with everyone. He is a social boy, but especially enjoys a deep relationship with his human. If you close a door behind you, he will sit patiently on the other side until you remember to invite him in.
You are welcome to fill out an Adoption inquiry here.
Kermode curled up with Cher (orange) and Mellow (tabby):