Hazel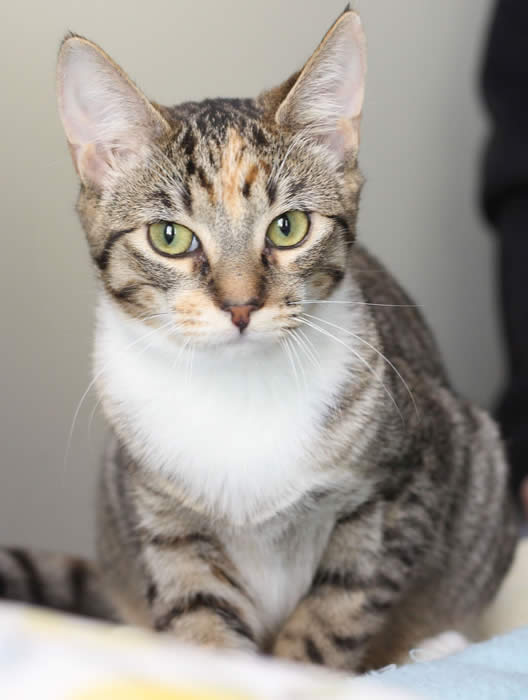 Hazel
Colour: DSH Torbie (tortoisehell/tabby)
Born Approx: April 22, 2022
Gender: Spayed Female (microchipped)
History:
A curious home owner (who happens to be a PAW foster-provider) asked her neighbours why they were boarding up around the bottom of their backyard shed. The answer was that they were "tired of mother cats giving birth under it". With all the nailing and hammering, the little momma had bolted, along with her kittens but one. That one was rescued almost immediately (and later adopted). A few weeks later, the remaining three kittens were trapped but their orange mom remains elusive, unfortunately. We still hope to rescue her. The three remaining kittens are the 'Nuts': Hazel, Cashew and Brazil (see the others' separate profiles.)
This is the same shed under which Ela had given birth. She and her five kittens were also rescued.
Personality:
Look at this beauty! Hazel is the only girl in the litter of four. All are safe indoors now, but Hazel and two of her brothers, Cashew and Brazil, are still looking for their forever homes. Hazel started out with darker fur but now this tabby/tortoiseshell is light and bright with a bib of white. She was a timid girl at first – and may be again for a little while in a new home (most cats are) – but she has grown bold and affectionate, running to her foster-guardians when they come home from work. Once she knows a person, she is quite extroverted, and rolls over for belly-rubs. In fact, one of her foster-family has taught her to roll over by hand-signals - not that Hazel needs encouragement: she loves the attention! Hazel also enjoys the company of other cats, once she gets to know them, and playing is her thing, whether with people or felines – there is still a lot of kitten in this youngster. Meet her, and see what else Hazel has in her!
If you are interested in Hazel, you are welcome to fill out an inquiry here.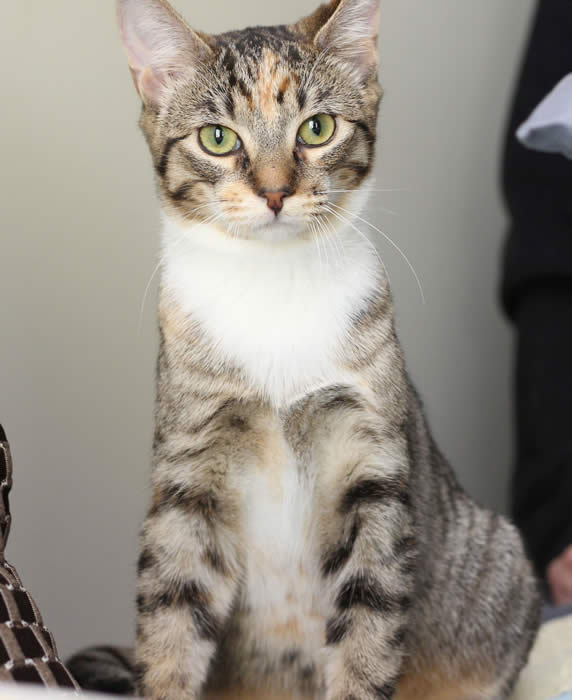 When she was younger: