Esme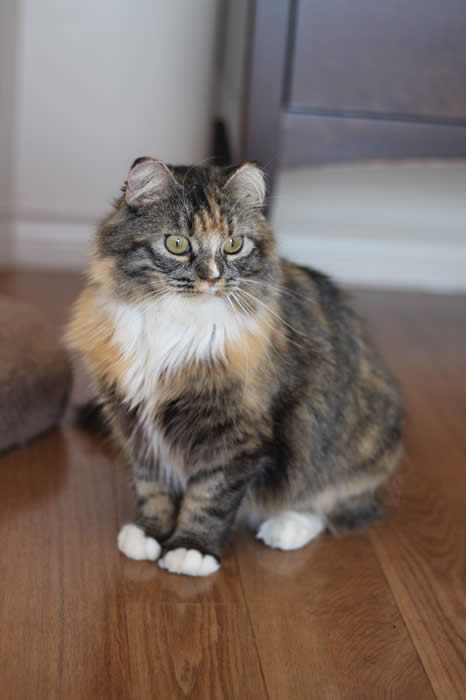 Esme
Color: DLH Tortoiseshell-tabby, white on bib, toes and nose
Born Approx: May 12, 2020
Gender: Spayed Female, micro-chipped
History:
Esme was one of three adult mother cats and several kittens rescued from a rural southern Alberta campground in the fall of 2021. Over the course of a few weeks, a compassionate individual from a neighbouring community took on the huge task of trapping all of them before winter set in. We were never able to figure out definitively who some of the kittens belonged to - after being rescued, the moms were too pre-occupied or stressed to resume their roles as mothers. However, leaving them in the campground was not an option. A couple of weeks after Esme arrived in her foster home, she contracted distemper (panleukopenia virus) from one of the kittens who had been exposed while being housed for a few days in a non-PAW home. Esme was also suffering from badly infected ears; however, with veterinary support and intensive home-care, she completely recovered from all her challenges. Under all that fur is a tiny, but strong, little body.
You can see from her picture the frost damage on her precious little ears. It is likely she spent the previous winter down in that lonely, frigid campground. It's difficult to imagine how she survived.
Personality:
This little beauty may be shy but not shy enough that she hasn't come to trust one of our key people in PAW. This person was a big part of Esme's initial care and recovery. Esme will let her pet her and pick her up (only from a raised level like the bed or cat perch) and allow this person to groom her beautiful coat. Although Esme stays just out of reach with the other people in her foster home, she is always curious about what the humans are up to. Even noisy activities don't faze her. We are quite sure she had a home at some point, perhaps only briefly. She knows that the human's bed is for her own comfort too. Her new family would have to be very careful with doorways becuse if Esme got out, it would be very difficult, likely impossible, to retrieve her. Esme knows how to have fun too. She bats around her toys, and really enjoys leaping up and pouncing on the ball in the turbo scrather. She also participates with much enthusiasm when anyone flings around a string toy. She roughs up the blankets and beds, always on the hunt for imaginary prey. She plays tag with Mochi (who may well be her own kitten) but also likes to be the boss of Mochi.. We couldn't be happier that she is safe and warm with a future opportunity to have a family of her own.
It will take some weeks, perhaps months, maybe longer, for Esme to truly let down her guard (it's impossible to predict) but if you have ever invited a shy cat into your life, you would know the pleasure that comes with gaining a cat's trust. Care must be taken to assure her a safe, indoor-only home.
If you'd like to talk to us about Esme, click here to send an inquiry.