Esme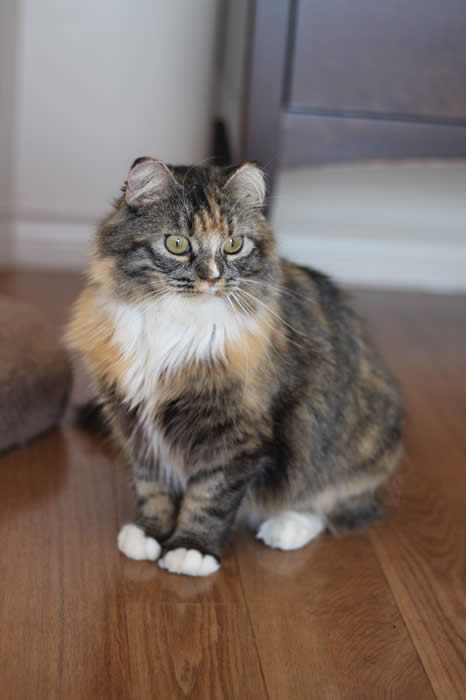 Esme
Color: DLH Tortoiseshell-tabby, white on bib, toes and nose
Born Approx: May 12, 2020
Gender: Spayed Female, micro-chipped
History:
Esme was one of three adult mother cats and several kittens rescued from a rural southern Alberta campground in the fall of 2021. Over the course of a few weeks, a compassionate individual from a neighbouring community took on the huge task of trapping all of them before winter set in. We were never able to figure out definitively who some of the kittens belonged to - after being rescued, the moms were too pre-occupied or stressed to resume their roles as mothers. However, leaving them in the campground was not an option. A couple of weeks after Esme arrived in her foster home, she contracted distemper (panleukopenia virus) from one of the kittens who had been exposed while being housed for a few days in a non-PAW home. Esme was also suffering from badly infected ears; however, with veterinary support and intensive home-care, she completely recovered from all her challenges. Under all that fur is a tiny, but strong, little body.
You can see from her picture the frost damage on her precious little ears. It is likely she spent the previous winter down in that lonely, frigid campground. It's difficult to imagine how she survived.
Personality:
We can hardly believe this little beauty's transformation. From trusting only one person in her foster home - and that took time - to a little cat that her foster family have to step over as she lies in the middle of the kitchen floor: her progress has been remarkable! She still freezes a little bit when picked up but almost immediately relaxes and lets herself be transported to wherever needed. She very much enjoys being brushed and fussed over but loves playing with a string toy even more - she's such a happy and playful little lady. Noisy household activities don't faze her. A City worker recently came to her foster home to install a water meter and Esme felt it was her job to accompany him into the furnace room to supervise. She bats around her toys and pounces on the ball in the turbo scratcher. She races through the tunnel just for fun. She has everyone in her foster home wrapped around her little finger-claw. She lives with two small dogs who aren't exactly cat-lovers but she doesn't mind them in the least. She also does just fine with other cats but, of course, cats always go through a getting-to-know-you phase. Tortoiseshell cats are very inclined towards a strong bond with one person but they generally like all the humans in their home.
It may take a little time for Esme to feel comfortable when she goes to a new home. Care must be taken to assure her a safe, indoor-only life as she is smart and know what's on the other side of an outside door. If a once shy cat gets outside, it can be almost impossible to find them because their survival instincts take over.
If you'd like to talk to us about Esme, click here to send an inquiry.