Dabney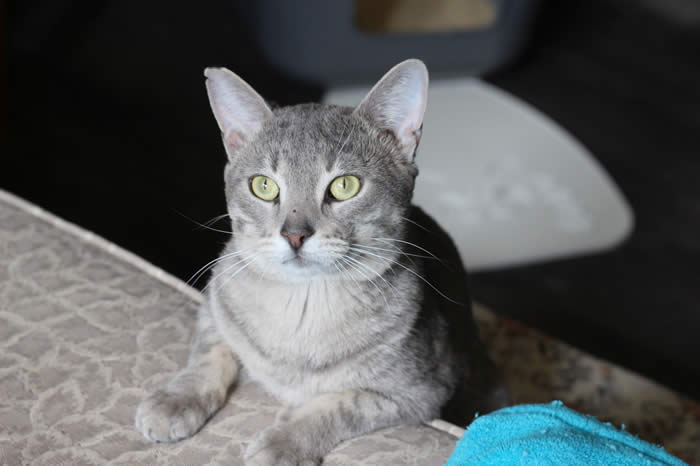 ADOPTED!
Dabney
Colour: DSH Light Gray Tabby
Born Approx: April 18, 2022
Gender: Neutered Male
History:
Like Percival, Dabney had been coming to a managed feral colony for some food. Thinner than Percival, he had probably been having trouble finding enough to eat; he had also been in a few scraps, as some superficial scratches and a bit of a tattered ear proved. The colony cats were not keen on his presence. Dabney was, however, quite well socialised to humans, so much so that he didn't need to be trapped; he walked into a carrier when a dish of food was placed in it. Negative for FIV and FELV.
Personality:
Dabney has shown one of the advantages of the foster-home system in that, while he initially seemed wary of his foster-guardian - and rather aloof even after gaining confidence - he has now determined that he rather likes his new situation and people. He was given time and his behaviour watched as he made his decision. We believe Dabney will repeat this cycle in a new home, where he may act reticent at first; his experiences with new environments and new humans may not have been always good. But with patience and kindness, Dabs will once again decide that things have improved for him.
We've also learned that Dabney is a lively and active young mancat. When he plays, he runs and sprints, dives and rolls - and that's just when he's playing by himself. He hasn't found a playmate among his feline roommates, but we think he wants one. His behaviour suggests that he's inviting one or two to have some fun with him; it's not his fault if they'd prefer not to. In the meantime, he likes to have fun with people, especially if they are adept at swinging a string-toy.

Dabney spent some time exploring his foster-home, to learn where all the good spots are to sleep. We think it's no accident that he's ended up snoozing on the bed, near his human. He also enjoys a comfy and snug cat-bed, and high perches, such as the tops of tall cat-trees, where he can view the outside - or keep an eye on events inside - if he wants.

This healthy boy has a good appetite, too, and he's learned when meal-times occur, and when he should start reminding the staff when dinner has to be started. Dabney learned his new name quite quickly, and has demonstrated that he has brains, as well as brawn.