Percival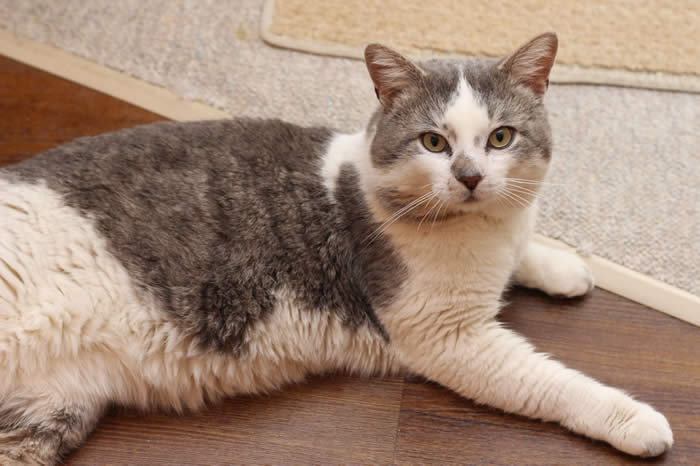 Percival
Colour: DSH White and Gray
Born Approx: October 5, 2020
Gender: Neutered Male (microchipped)
History:
Percival (new name) had been coming to a community cat feeding station for some months, frequently but not regularly. Far too friendly not to have had a home, he nonetheless had the shaggy, unkempt appearance of a cat who had been living outside. No sign was found that he had been advertised as lost.
Personality:
This is one friendly fellow. Though living rough, he didn't lose his trust - indeed, his love - of people, even strangers. He was always ready to greet those who managed the community cats' colony, and, when brought indoors, that characteristic just became stronger. When he sees his foster-guardian, he gives a long, rumbling greeting and hurries over for pets, often rolling onto his back for chest-rubs. The idea that someone could be mean to him just doesn't occur to Percival.
He wasn't hostile to the other cats in the feral colony; he was indifferent to them. Like his affection for people, that too has carried over to his foster-home. He acknowledged that there are other cats there, but was quite apathetic to them. His whole focus was on humans. After some weeks, he is showing a slight interest in the others, but that usually comes incidentally – if he meets a roommate while walking through a room or while sitting at a window; he still doesn't initiate contact. This will prove valuable if he is adopted into a home with resident cats – though he shouldn't be expected to be a pal or playmate to them. As for what other cats think of Percival, there were a few hisses and growls, but nothing came of them: Percival simply doesn't strike anyone as a danger, despite his hefty weight and largish size.
Percival likes to play, but right now, that comes in short, sharp bursts. An unexpected, frantic session with a string-toy, or a kicking bout with a fuzzy mouse, will last a minute or two. This may change, but for the moment, Perce is more interested in a human's personal touch, or in observing the outside. On that subject, he has shown no desire to return to the outdoors. He's too comfy and happy to be inside with his people. If there was a cat born to be a human's pal, it's Percival.
If you are interested in Percival, you are welcome to fill out an inquiry here.
The morning of his rescue: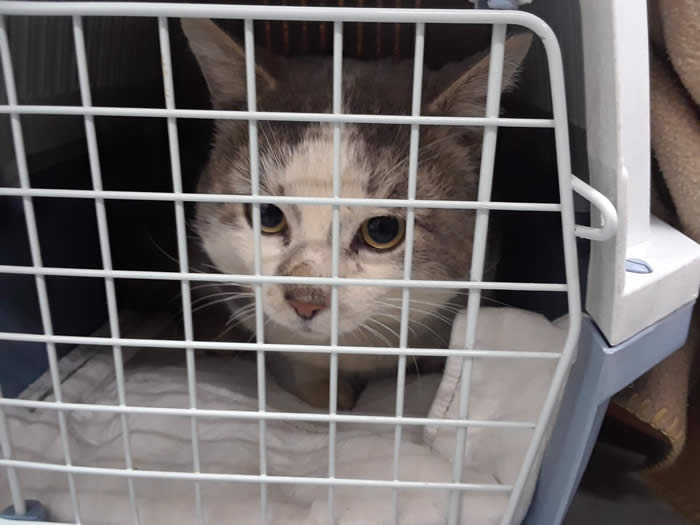 Later that night...: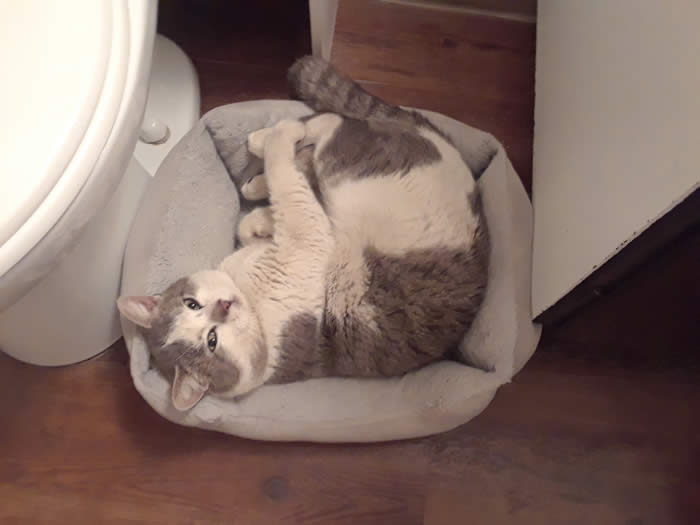 Three weeks later: