Cornelius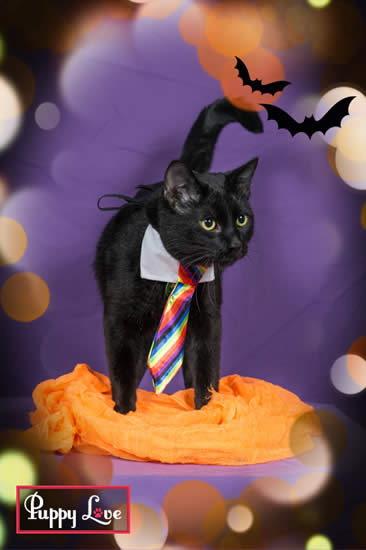 Photo courtesy of Puppy Love Pet Photography - Lethbridge
ADOPTED!
Cornelius
Color: DSH Black
Age: Born Approx. August, 2015
Gender: Neutered male
History:
In September, 2016, Cornelius was part of a rescue that also involved a young mother cat and kittens. They were living in a yard between a garage and a fence and all were hungry and quite desperate. The group was rescued by LCCR and Cornelius was subsequently transferred to the PAW Society. He's been neutered, vaccinated and micro-chipped.
Personality:
Black boys are usually laid back and confident and Mr. Cornelius is no exception. He's young and healthy and recovered quickly from being neutered. He's not shy about asking for attention and will show that by twirling in and around your legs. Clearly this handsome boy had a home at some point. In the temporary shelter, he lived with several kittens, Isabella and Nicolas being two of them. He liked the kittens and was happy to join in their games. There were also a couple of other adult males in the garage, and everyone got along beautifully. What a great cat he is! He is doing very well at the store and likes to climb as high as he can. Oh - and he likes to be on a lap!