Cora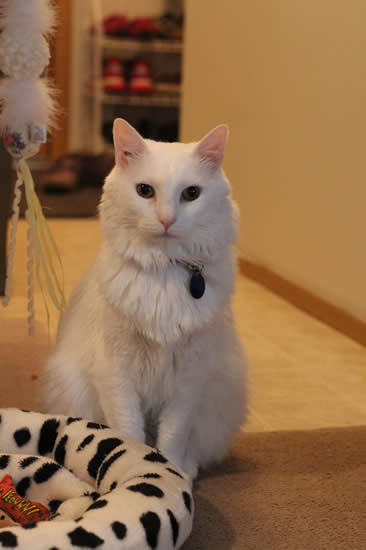 ADOPTED!
Cora
Color: DMH White
Age: Born approx. May, 2008
Gender: Spayed Female
History:
Cora was rescued by the Last Chance Cat Ranch in early 2009. She went on to be adopted, but in the fall of 2015, a volunteer with that group was shocked to see her on the city animal shelter's website. She had been turned in as a stray and not claimed. It's a disappointing scenario for any rescue group, finding one of their cats abandoned; however, onward to finding a better life for this great little cat! Cora was transferred into the care of the PAW Society in April, 2016.
Personality:
Cora is living in a foster home with no other pets. We didn't plan it that way, she just got lucky. She's thoroughly enjoying having foster mom all to herself! Cora is a chatty little girl with a very pleasant personality. She will run to greet you when you arrive home and listen to all the details of your day (you won't find a more discrete friend...). She extends her friendship to all visitors and will accept anyone's invitation to play with a string toy. She also likes to scoot around those little foam balls or carry one around in her mouth. Says foster mom, "She's a dedicated lap cat too!" And not just a lap, this sweet little cat will lie on your chest or your back when you're in bed, then make her way to a spot beside you for the night. She wants to be close to her person. In the morning, she'll reach out and gently touch your cheek with a paw, just to say 'good morning'. Cora is also very clean, which is a good trait when you have white fur! She has excellent litter box habits, uses her scratching post diligently and enjoys both canned and dry food. Perfect? We think so!
If you would like more adoption information about photogenic Cora, you are welcome to fill out and submit an Adoption Inquiry here.