Charlie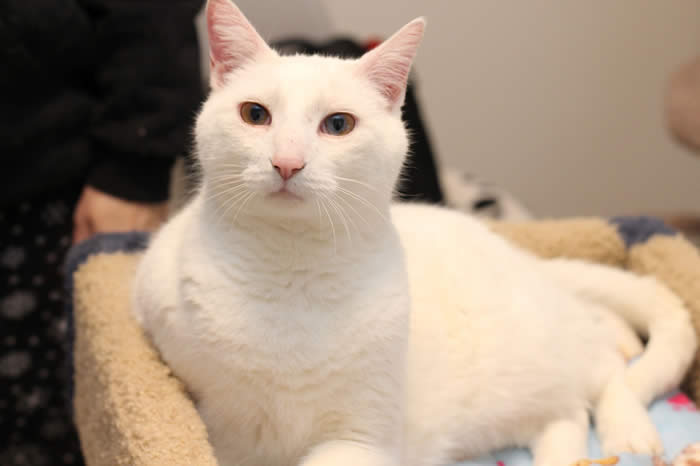 Charlie
Colour: DSH White (blue ring around left iris)
Born Approx: November 20, 2020
Gender: Neutered Male (micro-chipped)
History:
Charlie was trapped in PAW's on-going effort to capture the mother-cat of a set of youngsters we have for adoption. Charlie was very hungry but already neutered, which means someone looked out for him at some point. But nobody has been looking for him lately. He's been to the vet and health checked, vaccinated and micro-chipped.
Personality:
Uniquely, Charlie's left eye has a pronounced blue inner ring to the iris: just one thing that makes this confident boy stand out. Oh, and that Roman nose of his: does that say 'character' or what?
Charlie's foster mom sometimes has to be out of town for a few days a week on work-related business. When she arrives home, he turns on his she's-all-mine-button: "He is the most loving little man. It's heart-warming to be welcomed with such excitement! He licks my hands, pushes his nose between my fingers [to encourage petting] and, to keep my focus on him, gently grabs my fingers if I reach for my purse or phone. He would be happy to have a hand on him all day long. Not to mention his enthusiastic twirls around my legs!" It's clear that Charlie loves his people. With cats, he likes to take the superior position. He doesn't hurt them, but he'll give a good whap to the head if he thinks they're getting out of line. He would probably do better with a cat who has a more submissive personality. We can't wait for this big, solid, good-natured boy with a larger than life personality to be settled into his very own family. The more people for him to spread his love amongst, the better!
If you are interested in Charlie, you are welcome to fill out an inquiry here.