Charlie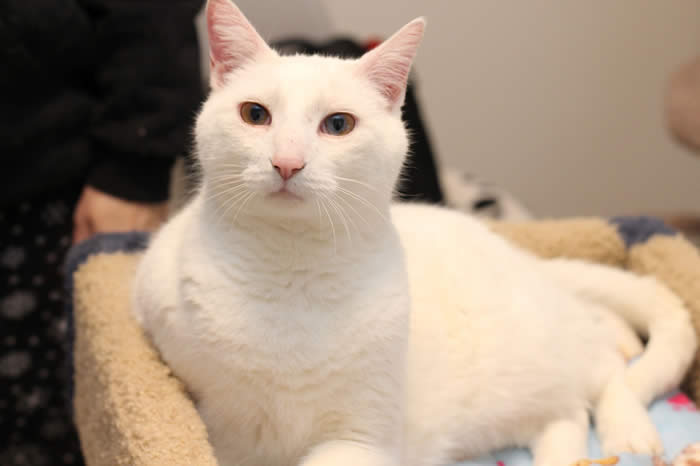 Charlie
Colour: DSH White (blue ring around left iris)
Born Approx: November 20, 2020
Gender: Neutered Male (micro-chipped)
History:
Charlie was trapped in PAW's on-going effort to capture the mother-cat of a set of youngsters we had for adoption. Charlie was very hungry but already neutered, which means someone looked out for him at some point. But nobody came looking for him. He's been to the vet and health checked, vaccinated and micro-chipped.
Personality:
Charlie is a big, all-white fellow who likes the active life. Even when he had a home, he was probably an only-cat, as it's taken him time to adjust to other felines. But he's doing it! A normal, patient integration will give Charlie the chance to be part of a loving, fun, cat-family. At first, he felt he needed to protect himself around other cats. Now that he knows he's safe, he wants to join in when the others play. His big size can be a bit worrisome to his feline roommates, but he's just the new kid who wants to be part of the crowd. When it comes to people, Charlie is much more confident: a loving, affectionate guy who wants to feel love in return. He greets his foster-guardian with excitement: she says, "He licks my hands, pushes his nose between my fingers [to encourage petting] and, to keep my focus on him, gently grabs my fingers with his paws if I reach for my purse or phone. He would be happy to have a hand on him all day long." When foster mom's grandchildren visit, he loves their attention too. He's just a little too large for them to pick up! That handsome face of his with its multi-coloured eyes and Roman nose says 'character', and this character is all about joining in. Whether as an only-cat or a new sibling for a family, Charlie is ready!
If you are interested in Charlie, you are welcome to fill out an inquiry here.