Auric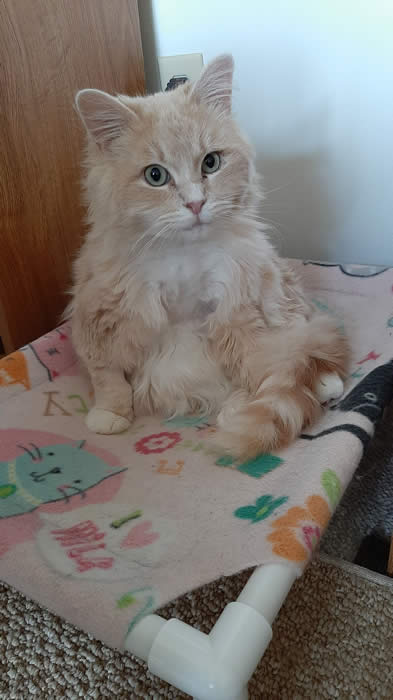 ADOPTED!
Auric
Color: DMH dilute orange with white paws and chest
Age: Born Approx. March 15, 2021
Gender: Neutered Male/micro-chipped
History:
One evening, Auric trotted up to a couple out walking their dog. Initially, they thought this friendly little fellow belonged to one of the near by houses, but when he persisted in following them, they noted his ragged and matted fur, and his under-nourished body, and realised that he had been outside, uncared for, for some time. The couple took him home, despite stating later that they are 'not cat-people', and did their best to feed him and give him a warm spot to stay. The PAW Society was called and room was found in a foster-home for this homeless boy.
Personality:
Auric was lucky. His diminishing weight, his coat's condition, the ear-mites he was carrying - not to mention an upper respiratory infection - show that family pets, as surely this very friendly fellow must have been, do not do well on their own in the 'wild'. Now, Auric's situation matches his cheerful disposition. His ears are clean, his fur has been combed into a silky softness - the mats shaved off - and he is filling out satisfactorily. He keeps his coat in very good condition..
His foster-guardian has discovered that this youngster, barely out of kittenhood, is a cuddler. He will step right up onto a lap and settle down for some attention. And then he will start purring. At bed-time, he'll want to be right up by his human's head - first he'll play with the bedclothes while you're arranging them for sleep. He may want to sleep on your head, but just gently re-position him near by and he'll be happy.
Curious? Never mind his middle name; it may as well be Auric's first! A door opens and he is there. Something drops to the floor, and he is there. What food is that? Auric will find out. Perseverance is Auriuc's hero.
And he's active! Well, why not? He's barely finished with kittenhood, though he'll probably always have a big slice of youngster in him. He can entertain himself, with those fuzzy mice, or a track-ball, or his favourite, a soft, stuffed sea-turtle. He also likes wrestling with a string-toy. Anything is a toy for Auric. He also likes having a playmate. His fellow foster-cat, Hector, about half a year older, is his best pal. They chase each other, wrestle and groom each other. Both can be adopted separately, but if a person were looking for a pair of energetic young cats to entertain each other - and their human - Auric and Hector would be perfect.