Hector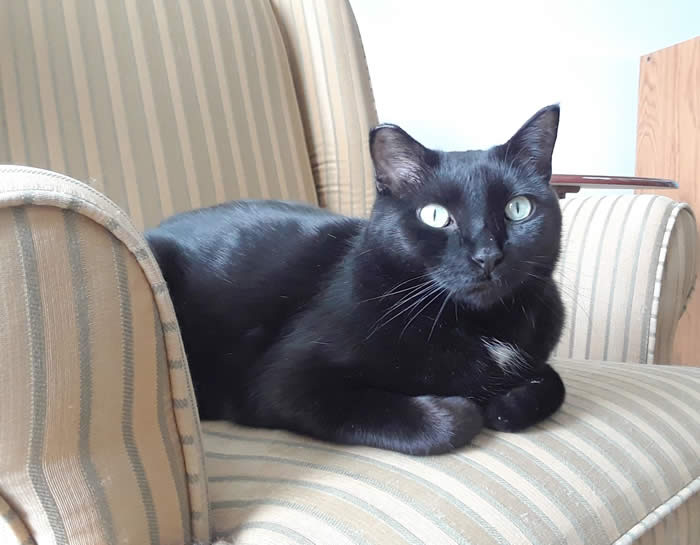 Hector
Color: DSH Black with white tuft on chest
Born Approx: May 1, 2020
Gender: Neutered Male
History:
An animal-lover and Lethbridge resident first noticed Hector (his new name) roaming the streets in May of 2021; he was subsequently regularly provided with good food. Already giving a home to a full compliment of rescued animals, the person couldn't take Hector in, and, as the year advanced, worried about him in the approaching cold months. She asked if the Society could find room for this youngster. A foster-home was found for him, despite it having two resident cats and two foster cats. At Hector's vet check-up, it was discovered that he had been previously neutered but had no microchip. We went through the posts of all the various lost and found groups and did not find a match.
Personality:
Hector's integration has proceeded well. A little wary of new people, he is willing to give them a chance, and rewards gentleness with trust. It didn't take long for Hec to show that he felt safe in his new environment: he would snooze next to his foster-guardian and even roll over, exposing his tummy, which no suspicious cat will do. He's an explorer, and will do his best to get into spots you think are safe from his presence. That's because this intelligent little guy is a thinker. He realised the purpose of a track-ball toy within a minute or two (it's not his fault if he doesn't find it all that exciting) and swiftly learned that clinking ceramic dishes means it's meal-time. Oh yes, he loves his soft-food; he will eat the dry, too, but he's always ready for more soft.
Hector is currently living with four other cats, who react to him in different ways. Two ignore him, one may be interested in making friends and the fourth intrudes his space to use his litter-box. At first, Hec wanted to show the resident felines that he wasn't afraid of them, but as he settled in, his attitude became more playful. He is living with middle-aged cats. What this energetic boy needs is a pal to run with. And Hector does run: this way and that, through tunnels and across rooms. With a playmate of his own age or, even better, a year or so older, he will have a great time, and learn about being a family member again.
Despite – or perhaps, because of – being outside for so long, Hector shows no desire to return there. He will look at the outdoors through windows, but has shown no sign he wants to experience its uncertainty again. For Hector, watching birds fly, leaves flutter and other cats pass by are now enough interaction with the world at large. He's more interested in inside things: toys, comfy beds and, of course, the closest meal-time! This young mancat is ready for his new life with a human family, and maybe a feline chum. It won't take him long to feel at home.
If you'd like to talk to us about Hector, click here to send an inquiry.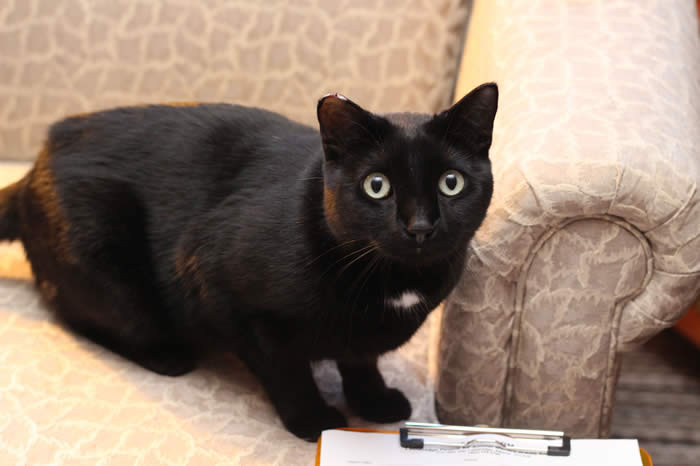 Hector and his roomies: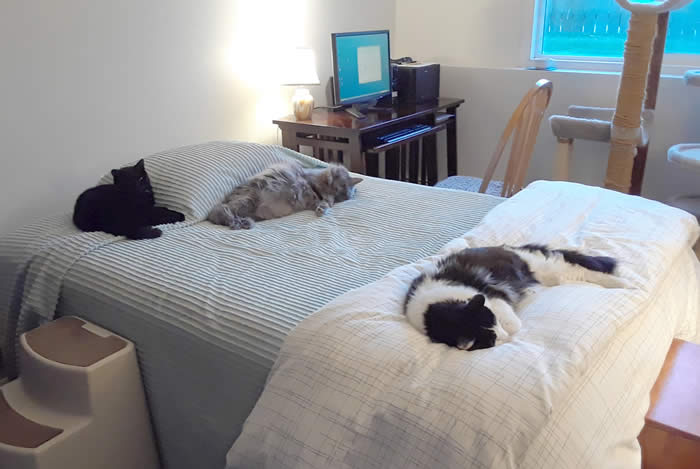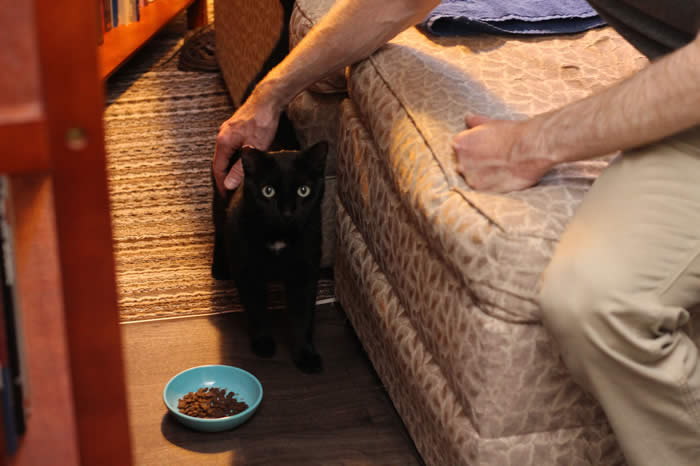 Hector did not like the look or the sound of the camera!