Hector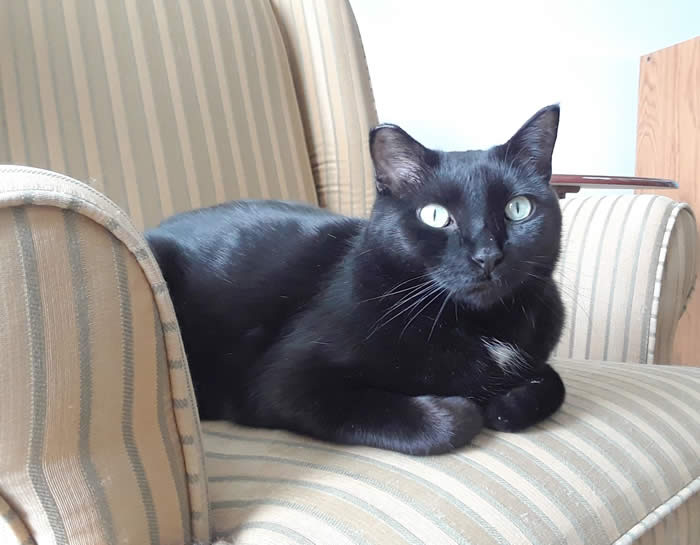 Hector
Color: DSH Black with white tuft on chest
Born Approx: May 1, 2020
Gender: Neutered Male/microchipped
History:
An animal-lover and Lethbridge resident first noticed Hector (his new name) roaming the streets in May of 2021; he was subsequently regularly provided with good food. Already giving a home to a full compliment of rescued animals, the person couldn't take Hector in, and, as the year advanced, worried about him in the approaching cold months. She asked if the Society could find room for this youngster. A foster-home was found for him, despite it having two resident cats and two foster cats. At Hector's vet check-up, it was discovered that he had been previously neutered but had no microchip. We went through the posts of all the various lost and found groups and did not find a match.
Personality:
Hector's integration with his new roommates proved very easy, the easiest his foster-guardian has experienced. He may be a little wary in a new environment, but his hesitation with new people won't last. He wants a close relationship with his human, and that has been demonstrated with his foster-guardian. He will often rub up against his person for no reason other than affection, and will sometimes lie next to you on a couch; sleeping against you on the bed at night is a must. Hector likes being petted and stroked, but if that turns into a game, it's only because he loves playing.
'Hec' will run about, burning off energy, just because. If you have a string-toy, though, he's ready for you. And boxes: put a box upside down over him and it'll move on its own! Hector had a playmate his own age (since adopted) and they were the best of pals. They chased and wrestled, groomed and snoozed together. A young and active feline roommate would be ideal for Hector.
As for older, more sedate cats, Hec can live with those, too. If he is a little too rambunctious for them, it's only once in a while, and that's because he's looking for a fun friend.
And speaking about fun, that's what Hector thinks of soft-food. He can never get enough of it. He doesn't try to eat any human food, but his curiosity might impel him to take a look at what you're serving up. He's one smart boy is Hector: he loves exploring and seeing what's new, how it works and what it does.
Entertainment, friendship and fun: that's what you'll get with Hector.
If you'd like to talk to us about Hector, click here to send an inquiry.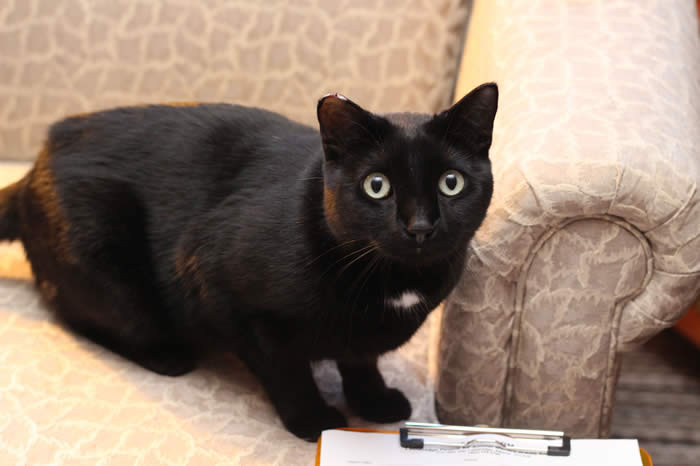 Hector and his two foster brothers: