Hector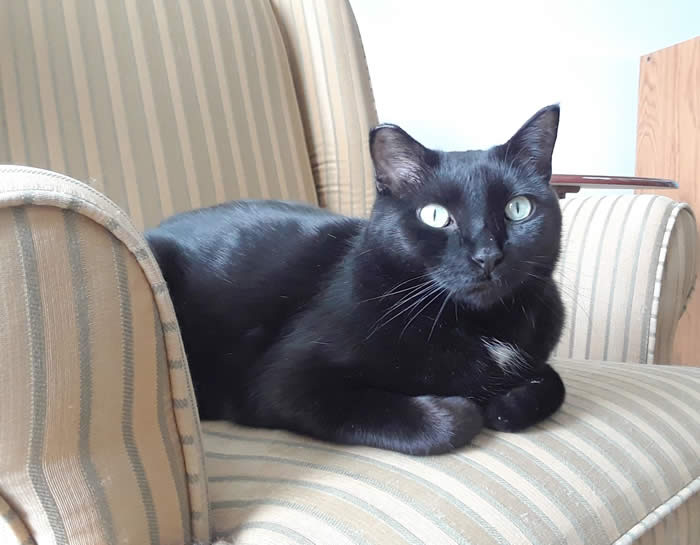 ADOPTED!
Hector
Color: DSH Black with white tuft on chest
Born Approx: May 1, 2020
Gender: Neutered Male/microchipped
History:
An animal-lover and Lethbridge resident first noticed Hector (his new name) roaming the streets in May of 2021; he was subsequently regularly provided with good food. Already giving a home to a full compliment of rescued animals, the person couldn't take Hector in, and, as the year advanced, worried about him in the approaching cold months. She asked if the Society could find room for this youngster. A foster-home was found for him, despite it having two resident cats and two foster cats. At Hector's vet check-up, it was discovered that he had been previously neutered but had no microchip. We went through the posts of all the various lost and found groups and did not find a match.
Personality:
Hector settled in to his new home with few problems. He enjoys the company of people and, though he was hesitant around new humans at first, he now comes over to greet visitors in his foster-home. He's an affectionate cat, and enjoys rubbing up against his person just to show it. But if he does it excessively, it means he's trying to tell you something - like maybe you've forgotten that it's meal-time!
Hec's in the prime of life when it comes to activity. He will run around to burn off energy; he will knock toys about, especially anything that slides easily across floors. But what really gets him moving is play-time with another cat. His best pal in his foster-home is a kitten with energy to match his own. If these two were adopted together, everyone would be happy… But if not, then Hector will probably try to make friends with whomever he found in his new residence. Chasing and wrestling are his favourite games, but he likes to lie quietly with his friend, too, and groom her. As for older, more sedate cats, Hec can live with those, too. If he is a little too rambunctious for them, it's only once in a while, and that's because he's looking for a fun friend.
Sometimes, though, Hector enjoys reposing on a cat-tree and watching the outdoors. Birds and other wildlife usually capture his attention, though now and then, he'll just contemplate nature.
When there is something new in his world, Hector wants to know all about it. Some might call him mischievous, but that's just his natural curiosity. He loves exploring and seeing how things work and what they do. But at day's end, you'll go to bed and, if Hec isn't already there waiting for you, he'll join you later, usually taking up more than his share of the mattress…

Entertainment, friendship and fun: that's what you'll get with Hector.