Amidala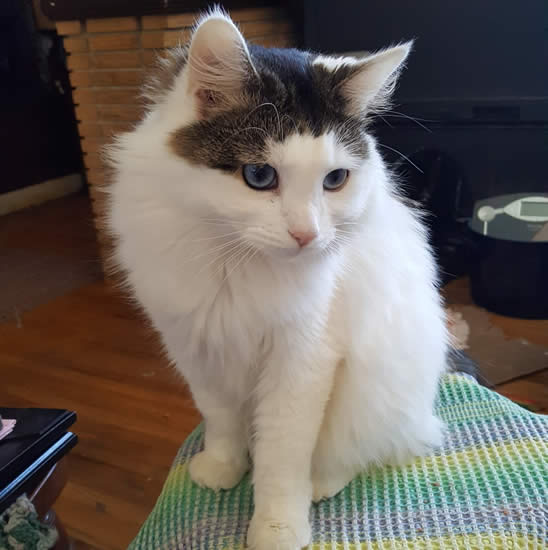 Adopted!
Amidala
Color: DMH White with Gray Tabby Patches (bright blue eyes)
Age: Born Approx. March, 2016
Gender: Spayed Female (micro-chipped)
History:
Amidala was originally taken in by the Last Chance Cat Ranch. She was from a town outside of Lethbridge where, they were told, she'd been a stray for some time. The family who found her looked after her for awhile but then moved and could not take her with them. Although Amidala had been previously spayed, she was in rough shape when she came to the rescue group. Her fur was very matted (had to be shaved) and she had what the veterinarian said looked like burns in her mouth. How in the world she could have had sustained such an injury is a complete mystery. But her life turned around quickly and young Amidala was soon healthy and well. Her blue eyes could mean she shares some genetic history with the Ragdoll breed - she is kind of floppy afterall!
Personality:
Pretty Amidala has a mellow personality and an affectionate nature. Foster mom calls her "gentle and gracious." And clean! She keeps her soft, medium-length coat in exquisite condition. She likes to sit up high and look down upon her subjects - although she's not standoffish in the least. She lives in a multi-cat foster home and after a brief integration period, she fit right in. She is particularly good friends with a young cat named Moonlite. If you are considering adopting a pair of cats, they would be a great choice. At bedtime, Amidala will be close by if not on the bed. She adores people and would dearly love to have more individual attention. She also does very well with the small resident dog in her foster home.
Amidala after being shaved: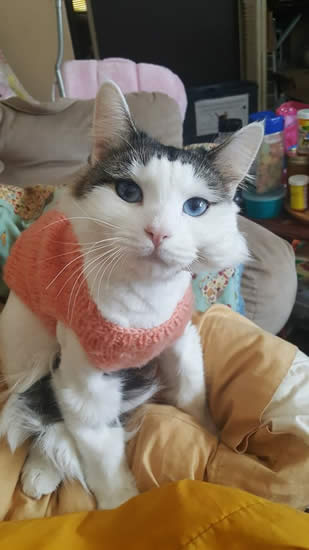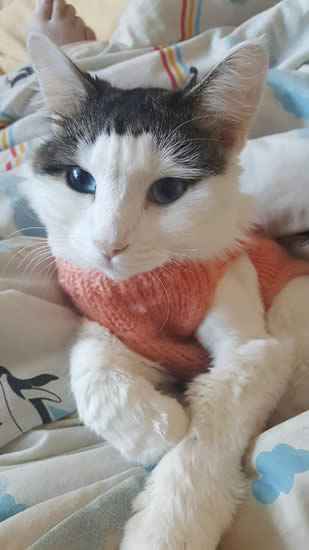 Amidala and Moonlite: