Moonlite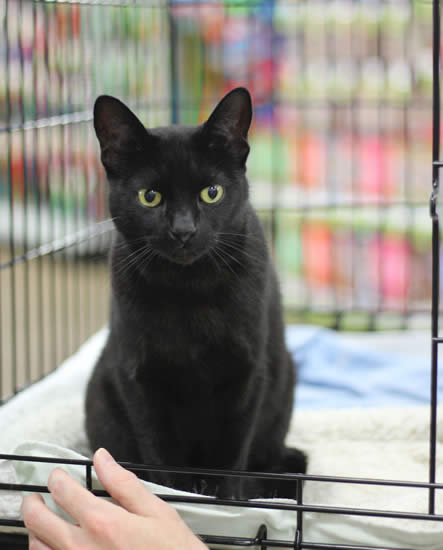 ADOPTION PENDING!
Moonlite
Color: DSH Black
Age: Born approx. March, 2017
Gender: Spayed Female (micro-chipped)
History:
In early 2018, a little black cat was begging for food at a northside apartment complex so a kind lady put out food on her front step. This went on for some time. The lady didn't know exactly where the little black cat was sheltering but she thought likely under a holiday trailer as she would see her huddled under it from time to time. The lady suspected there were also kittens (this was later confirmed as Moonlite was lactating) but when she tried to find them, she had no luck. It is unlikely they had survived the harsh winter temperatures but Moonlite somehow did. Eventually the lady's partner began to discourage her from putting out food for the little stray, citing a fear of attracting more cats. Would that be so bad we have to ask? Anyway, that's what motivated her to call around for help and luckily, the Last Chance Cat Ranch found a temporary foster home. She was then transferred to PAW.
Personality:
Dancin' in the moonlight
Everybody's feelin' warm and bright
It's such a fine and natural sight
Everybody's dancin' in the moonlight
If you're old enough, you may remember this 70's song - or perhaps one of its many covers over the following years; the tune and lyrics certainly suit this light-hearted, happy girl. It's truly amazing how cats can experience such hardship and still be themselves. Moonlite trusts and loves people. She follows foster dad everywhere. If he goes to the bedroom, she'll wait at the door to be invited in. "C'mon Moonlite" is all she needs to hear. Bathroom door closed? She patiently waits for her person to exit. She gazes adoringly at her foster parents. When there's an open lap, she'll be on it. She lives in a multi-cat foster home that also has a little dog. She minds none of them and if someone would like to play with her, all the better! Moonlite is "such a precious little cat" says foster mom. She's enjoying all the fun of being a kitten again. Little black cats are sometimes overlooked but we hope that's not the case for this special little lady.
Chillin'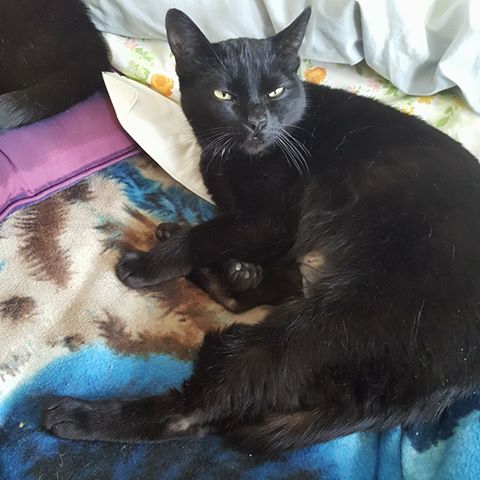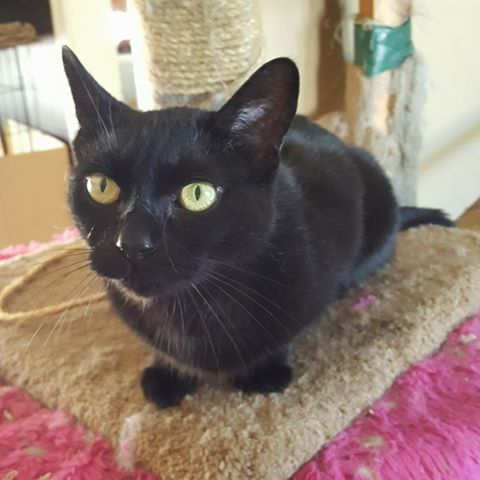 Not much older than a kitten herself: