Zofia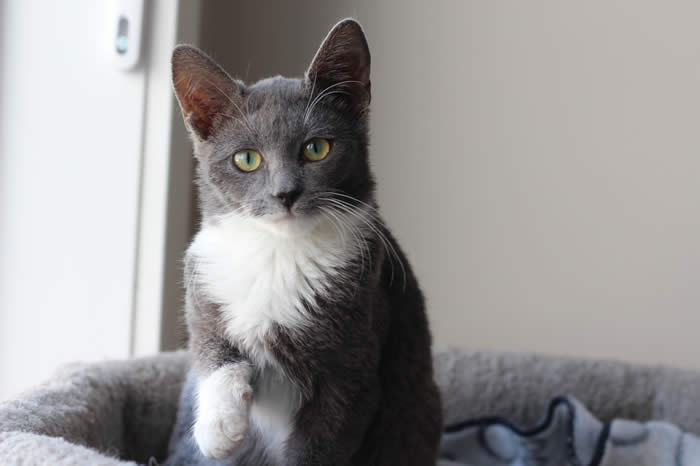 Zofia
Colour: DSH Gray with white paws chest and tummy
Born Approx: August 1, 2022
Gender: Female
History:
This little kitten was found, wandering and homeless, at about two months of age. Brought to a PAW foster-home, she was under-nourished and had ear-mites, but nothing that couldn't be cured. No one came forward to claim her.

Personality:
Zophia clearly came from a home where she received attention, because she was used to people - and liked them! In her foster-home, she wasn't shy about interacting with humans, and spent one evening soon after she came to her foster-home curled up snoozing on her caregiver's lap - after she had tired herself out playing. And playing is something Zofia likes as much as she does people. Especially enjoyable are the fuzzy mice, balls and the rings off milk jug caps: anything she can bat about, chase and bat about some more. But she is also a team player: her current best pal is a bigger and older two year old foster cat, Hector. It's a delight to her foster-guardian to see him chase Zofia around their home, only to be chased by this tiny kitten in turn. Zofia also gets a bath from her big brother now and then: she loves the attention.

This little girl-cat is not shy, and is still learning that there are some things a cat shouldn't do. But she's smart and absorbs knowledge quickly. She has a typical kittens curiosity, and will drop what she's doing to investigate a new sound, sight or smell - only to be distracted by something else a moment later. She is at last finding her voice: until now, her purr has been much louder than her silent meow, but now you can make out the tiniest of squeaks when she wants to tell you something.

Still slender, Zofia is making up for lost pounds by tucking into a good meal whenever it's offered. She isn't quite ready for adoption, but will be soon. She still needs to be vaccinated (mid-November). But after that, little Miss Zed will be eager for her new family. When she's close to six months old, PAW will arrange the details of her spay surgery with her new family, the cost of which is included in her adoption fee ($250)
If you are interested in Zofia, you are welcome to fill out an inquiry here.