Zofia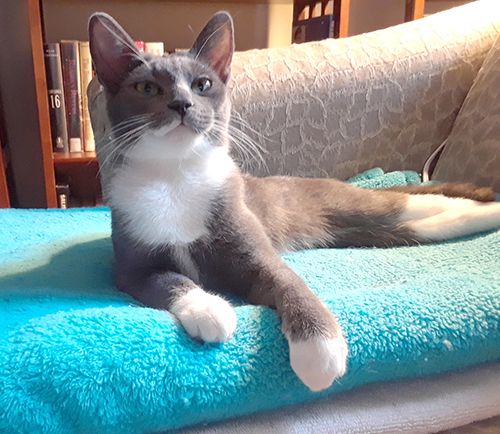 ADOPTED!
Zofia
Colour: DSH Gray with white paws, bib and tummy
Born Approx: June 24, 2022
Gender: Spayed Female, micro-chipped
History:
This little kitten was found, wandering and homeless, at about three months of age. Brought to a PAW foster-home, she was under-nourished and had ear-mites, but nothing that couldn't be cured. No one came forward to claim her.

Personality:
Zofia clearly came from a home where she received attention, because she was used to people. She can be shy of new ones; when visitors come to her foster-home, she'd prefer to wait and see what they're like before meeting them. But she warmed up to her foster-guardian quickly, and she will to a new family, too.
Zo is a typical kitten, with plenty of energy. She loves to burn it off by knocking toys about and running after them: fuzzy mice, balls, and string are her preferences, but anything that drops to the floor is fair game. She's discovered that the underside of wooden chairs, with its legs, and cross-bars is a wonderful playground - like a human child's jungle-gym. Watch her propel herself under the chair upside down! What she really likes, though, is a playmate. She's currently best pals with an older (but still young) cat in her foster-home. They tire themselves out chasing each other back and forth, and wrestling. She will want to know other cats, too, older felines who may not want to play. Once she learns where the boundaries are drawn, she is quite respectful.
Zofia also has her quiet times. Like most kittens, she'll fall into a deep sleep swiftly when she's spent from playing, and sometimes, she'll hurry over to curl up on her human's lap. Healthy and growing, Zofia is turning into a long, lean cat. She's putting on pounds the way she should, but she'll likely always be a slender girl; when she stretches, she doubles her length!

Little Miss Zed is a smart girl. She learned the meaning of 'dinner' and 'snack' quickly, and fell into meal-time routines without much delay. When she knows her dish of food is on its way, she'll squeak and squeal in her tiny voice. She knows what is allowed and what is not - though her curiosity may get the better of her from time to time. We have a feeling this little one will be youthful and kittenish for a long time, and, years from now, when older and dignified, she'll probably still have a twinkle in her lovely green eyes.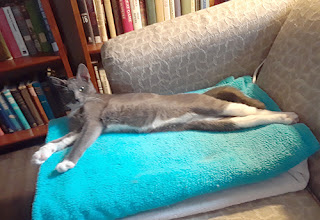 All tucked in: