Yuki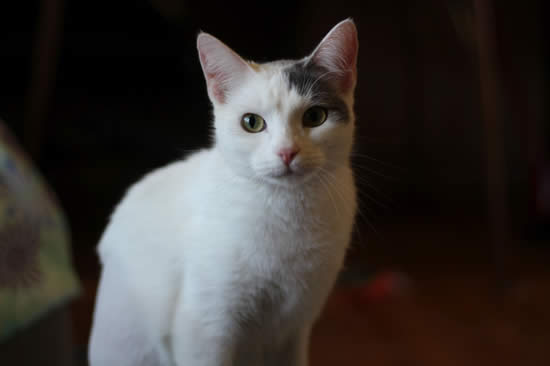 ADOPTED BY HER FOSTER FAMILY!
Yuki
Colour: DSH White with grey patch on head and grey tail (tri-pod)
Ages: Born approximately December 18, 2018
Gender: Spayed female/micro-chipped
History:
Yuki was missing from her home for several hours after having accidentally escaped. Still, she managed to limp home. She was in much pain when brought to the emergency clinic in Lethbridge late one night. Xrays showed a complete fracture of her right hind femur. It's not known how the leg came to be injured, presumably a car.. The necessary surgical repair proved too costly for her owner and Yuki was subsequently surrendered to the Last Chance Cat Ranch. There were two options discussed with the veterinarian: repair the fracture (very costly and a long recovery) or amputate (not as costly and a shorter recovery). Amputation was chosen and done on June 17, 2019. Following that, Yuki was confined to a kennel for a few weeks. Her healing progressed quickly and, as with most cats and dogs who have lost a limb, she learned how to ambulate using her three remaining legs. Her file was subsequently transferred to the PAW Society.
Personality:
Judging by her personality, it's hard to believe that Yuki suffered the trauma of losing one of her legs. She is happy, playful, spunky and affectionate. Her favourite perch is a lap and her favourite thing to do is hang out with her people. She is very quick to make friends. On her recent field trip to show herself off at a pet-supply shop, she encouraged every passer-by to pet her; the only time she wasn't trying to get someone's attention was when she already had someone's. After knowing her host only an hour, she was ready to have him rub her chest - which she loved. There wasn't much in that strange environment that worried her. Yuki is doing well in her multi-cat foster home, although she doesn't necessarily like when another cat gets right in her face - most cats don't. You can see from one of the pictures below, that she also does well with the little, old resident dog. When she's tired out, she goes back to her safe zone for a snooze - the large kennel in which she spent so much time. But now, its door stays open. After snoozing, she's back to exploring her world and being her enchanting little self.