Trinity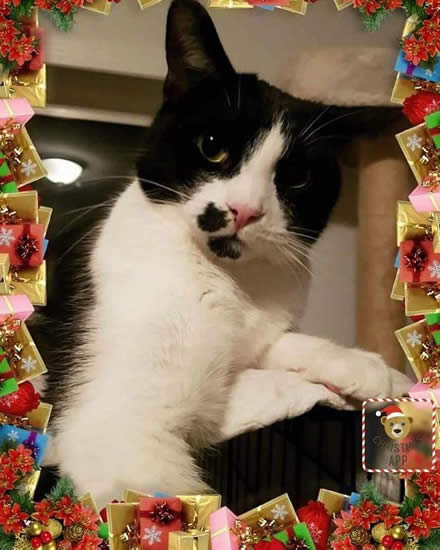 ADOPTED!
Trinity
Color: DSH Black and White Tuxedo (three legs)
Age: Born approx. January 25, 2015
Gender: Neutered Male (micro-chipped)
History:
Trinity was found on the side of the highway between Welling and Magrath in April, 2017. A compassionate person scooped him up and contacted the Last Chance Cat Ranch. His back left leg was shattered (see photo of x-ray below) and he was emaciated. It was also discovered he had a pellet lodged in his abdomen. The veterinarian was unable determine if the damage to his leg had been caused by other pellets or from being thrown out of a vehicle. His leg was subsequently amputated and the pellet removed. After spending a few days in the hospital, Trinity went to live in the main LCCR foster home. Trinity had been previously neutered.
In January, 2018, PAW received an adoption inquiry for a three-legged shy boy named Ali. He was a Last Chance cat that we had agreed some months prior to help find a home. However, upon discussing Ali with his foster mom, we agreed that it would be in his best interest to stay permanently in his foster home. He was too shy, she felt, to make a successful transition to a brand new environment. It was suggested that we instead offer to our approved adopter another three-legged fellow -Trinity. The rest, as they say, is history.
Trinity has done amazingly well in his foster-to-adopt home. He adapted quickly. His person tells us he is very playful and active - more mobile than any thought he could be (carpeted home!). Trinity has always done very well with other cats and he is currently working his magic on his new brother, Thor. We were informed in mid February that this lovely boy will be staying.