Theodore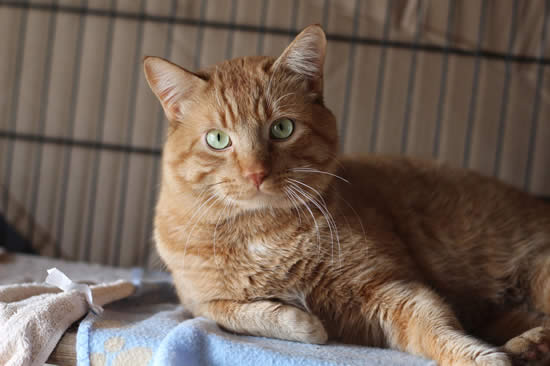 Adopted!
Theodore
Color: DSH Orange Tabby
Age: Born Approx. April, 2014
Gender: Neutered male
History:
Theodore was taken out of the local animal shelter by a another rescue group, because when they heard his story, it tugged at their heart-strings. He had been returned to the shelter after a brief stint on a farm. "Too friendly" was the reason given. Instead of staying in the barn, he persisted in trying to come in the house. Most cats at the city shelter don't do well in a farm situation, usually because they were house-cats before ending up at the shelter. Barn life can be harsh. The new cat has to fit into an already established group and that's not easy, especially for an unneutered cat as was Theodore. Since being in rescue he has been neutered and vaccinated.
Personality:
"Too friendly" kind of says it all, doesn't it? It's true, he is a very nice fellow and, as is quite typical with orange males, self-assured as well. Since his shelter days, he's been living with several other cats in a foster home and gets along nicely with everyone. He's looking forward to his own home, though, maybe with fewer felines. That way he can have more attention for himself! His temporary foster home has a couple of friendly dogs and that's okay by him. Theodore is an all-around nice young gentleman and would make a great addition to a family. Home for Christmas anyone?