The Original Theo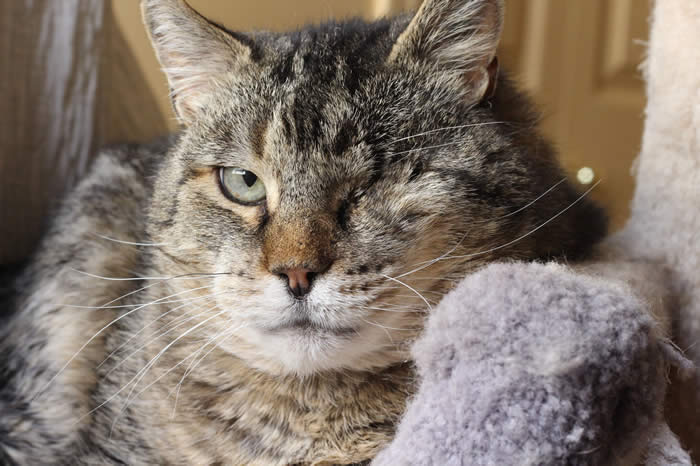 RIP little friend.
A life well-lived, eighteen+ years.
August 9, 2020
Theo
Color: DSH Brown Tabby with white muzzle
Age: Born approx. 2002 or earlier
Gender: Neutered Male
History & Personality:
When the PAW Society was still operating the Cat Compassion Centre (2003 - 2008) on 12 A Street N., the volunteers cared for a few strays who would come to the feeding station we set up behind the Centre. At the beginning of our occupancy, some of the adult male cats were neutered and returned to the alley. It was difficult to tell who continued to use the feeding station over the years as most came during the night but, suffice it to say, the numbers dwindled. Outdoor cats generally live short, harsh lives.
While PAW was preparing to vacate the premises, we knew we couldn't leave behind a regular evening visitor with a problem eye, a large, muscular fellow we'd named Theo. A plan was made, the trap set, and after several days, success achieved. Only when he arrived in his foster home and was still in the trap, did we notice a tatoo in his ear... It read "Paw". We were amazed to realize he'd been one of the original males we had trapped and neutered almost five years earlier.
Audrey says, "He was my toughest integration by far. Most of the other foster cats at the time were terrified of him and rightly so. Others tried to challenge the newcomer and many territorial fights ensued. He always won. Theo marked his territory - sprayed - anywhere he pleased. He swaggered and marched around the house as befits a heavy weight champion. He took great pleasure in throwing a right hook at anyone, human or cat, who invaded his personal space. For the cats, it took months of supervised visits, one or two at a time, before we started to see progress. A patient integration eventually paid off."
Theo had several medical problems which had to be dealt with. Right away, the problematic eye had to be removed due to glaucoma. Soon after that, he developed ear polyps which necessitated the removal of his left ear canal. That is when we discovered Theo was deaf in his 'good' ear as well. Imagine the difficulties for a cat who made his home in a commercial alley way, unable to hear and only one functioning eye. James, a PAW executive member, pointed out that some of his other senses, specifically smell but also touch (vibration), likely became heightened.
It didn't really take all that long, maybe a couple of years after arriving, before Audrey's bossy guest became a devoted lap cat. Of course, he still set the tone, but, like the cats, his human family learned to bend to his will. Somewhere along the way, "guest" turned into "beloved permanent foster family member". He was cherished and cared for by Katrina and Audrey, often visited ("schmoodled") by Roxanne, until the day came when he could no longer cope with concurrent health issues.
"I was out of province when Theo's time came. Many thanks to Katrina, Roxanne and James who all played a significant role in assisting him with his peaceful passing." ~Audrey