Tawny (permanent foster)
Color: DSH Lynx Point Siamese
Gender: Spayed Female
Age: Adult
History:
In April, 2006, Tawny was born along with four other kittens to a feral mother cat living in the backyard of a residence in Taber. Although the person whose yard they lived in was a compassionate person, one of the neighbours wasn't. Two of Tawny's siblings had been poisoned when they were still youngsters. At about six months of age, Tawny, along with her mom and two remaining siblings, were trapped and spayed as part of the Trap-Neuter-Return program operated by the Town of Taber and dedicated volunteers. After a short recovery period, they were returned to their caregiver's yard where they continued to be fed, sheltered and looked after. But the persecution by the neighbour also continued, this time with golf balls and a slingshot. Tawny was the usual target, likely because her colouring made her more visible and also because she was tamer than other members of her family. Shy cats often don't come out of hiding until it's dark. It was decided to remove Tawny to see if the rest of her family would be left to live in peace. It worked. Once Tawny was no longer seen, the neighbour stopped the abuse.
Personality:
Tawny is very affectionate although a little shy with new people. Play-time is a great way to help your new cat get to know you - and a good play session is something this little lady certainly enjoys. She also adores being brushed and just generally fussed over. Tawny gets along well with other cats (prefers the boys) and dogs. Her best friend is Rueben. Her favourite toy is a little sponge ball. She'll hold it between her paws and talk to it, carry it around in her mouth, toss it and chase it. She also likes a laser pointer. At night she sleeps on the bed with her foster mom, taking up as much room as possible by sleeping in a horizontal position.
When Tawny came to her current foster home in January, 2013, she had a severely inflamed mouth. It's a condition called stomatitis. Usually removing all the teeth will clear up stomatitis but doing that didn't help Tawny. Because of her extreme mouth sensitivity, her veterinarian surgically placed a feeding tube into her neck. This made a huge difference because it was then possible to provide her with much needed nutrition and also an excellent way to deliver medication without causing distress and more pain. The feeding tube method did its job well and was removed a few months later. Tawny's condition is well managed by Dr. Kate Lupton, requiring a small daily injection of dexamethasone administered by foster mom. Tawny willl be staying permanently with her current foster family.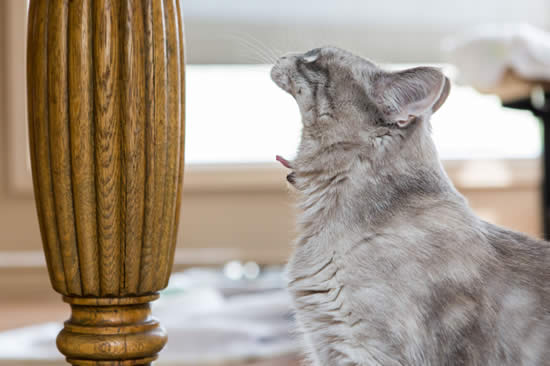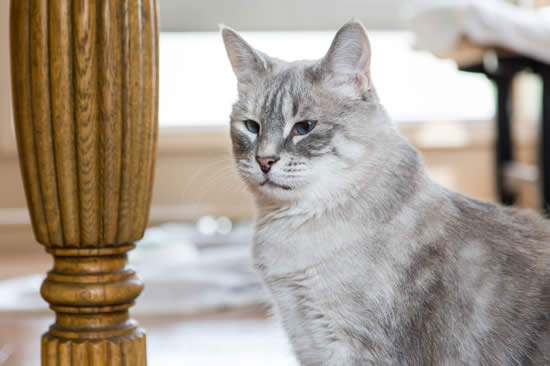 Tawny and Rueben: